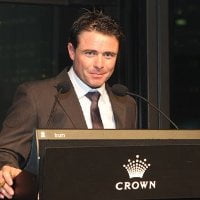 Bob:                       Another good afternoon, welcome to "What's In My Garage." This afternoon I'm at a Men of League function with the Queensland CEO Frank Barrett. I've known Frankie for a few years now; good bloke. We're going to ask him the obvious question, Frank what's in your garage?
Before we get to that, tell us a little bit about Men of League and what you do for Men of League and what's happening with the organisation?
Frank:                   Yeah, thanks Bob. Great to catch up, and I do appreciate our friendship and our support that you've given us over the years here at the Men of League Foundation. Pretty simply, we help the men, women, and children of the rugby league community not only in the hard times which is important, but also to celebrate the game and raise funds for those that are a little bit in need.
Bob:                       How long has Men of League been going?
Frank:                   It started in 2002 as a foundation. Ronnie Coote, Max Brown, and Jim Hall got together and thought, "Geez we need to help some people that used to be in the game doing it a bit tough. Here in Queensland, about the same time, in this very venue, the late great Steve Calder and some merry men got together and thought, "We need to look after the game here in Queensland."
Bob:                       Because I remember hearing a bit about it when Ron Coote kicked it off. Was it Johnny Peard that was one of the first old players who had fallen on hard times?
Frank:                   He certainly comes through a lot of prominence a little bit after it started. How it actually started was Ronnie was going into hospital to see his daughter who was having a baby, and one of his former teammates was in there and he was crook. The nurse said would you come down and see this man. He went in and he had no visitors. He thought, "We need to do something for that." From 2002 over $4 million worth of benevolences have now been given out.
Bob:                       Mate, isn't that wonderful? 14 years, $4 million has been raised. It goes back to the rugby league community, doesn't it?
Frank:                   Absolutely. We're a deductible gift recipient; we've got the highest status in the not-for-profit, and it's very important the governance of it. It all goes into a central pot in Sydney, nationally out of Sydney. Then it comes back through a process. You've got to tick the necessitous needs part. If you can't do it on your own, we'll help you out.
Bob:                       We've been involved in the last couple of years about supplying vehicles for ex-footy players or families of footy players who have needed a vehicle to convert for disability, hey?
Frank:                   Absolutely. Bob, what you've done for the foundation is indicative of what people do out there for us. Not only vehicles that have helped us raise money through different means, and we've raised a lot of money through vehicles you've supplied for us. Also been able to fix some solutions for people, Ryan Smith is one that jumps to mind.
Bob:                       Absolutely.
Frank:                   Had a car accident, very innocuous car accident, ended up quadriplegic. Required a vehicle, we found the vehicle they wanted, got it fully modified, they're now in Mackay in that vehicle thanks to people like yourself.
Bob:                       Yeah, that's great.
Where to for the Men of League from this point in time as we're sitting here in November, 2016?
Frank:                   I think it's a very good point. As we sit here now, what it needed in 2010, what it needed in 2002 were all very different. Like a lot of foundations and businesses in general, it needs to evolve. What it's about now is working out there's that much need out there, there's that many people under tough times or challenging times. A lot of it might be just social isolation; needing someone to give a phone call. Just working out where our charter is, where we sit on the whole broad rugby league community. We're funded by the ARLC; John Grant the Chairman is a great supporter there.
Bob:                       He's a Queenslander too-
Frank:                   He's a good Queenslander, isn't he? He helps us out with basically covering the majority of our operational funds. The money raised by our volunteer committees, we've got 14 across the state, 40 across the nation, then can go directly to that benevolence.
Bob:                       That's a good foundation to work on, isn't it?
Frank:                   Absolutely. I think one of the big challenges it's a very competitive space, the non-for-profit, as you know. You help a lot of them. There's a lot of challenge out there-
Bob:                       There is-
Frank:                   There's a lot of people. Lot of worthy causes but you can't help every one. We've got to make sure we're judicious in what we do with the money raised, and we follow up on things which you always remind me of to make sure we get it done. And just know what we want to be, how we're going to do it, and make sure we do what we say we're going to do.
Bob:                       So Frank, if someone wants to make a donation to the Men of League or get involved with the Men of League, how do they reach out to you guys?
Frank:                   Very best way is to do what you do, and become a member. $20 a year you'll get your magazine, these days you can get it electronically so an email once a quarter, and it will tell you all the things we're doing. You can make donations via the Men of League website.
Bob:                       What's that, mate? What's the domain address for that?
Frank:                   It's just menofleague.com.au.
Bob:                       Menofleague.com.au?
Frank:                   Yep. Go in there and-
Bob:                       Irrespective of what state you're in?
Frank:                   Yep. Away you go. You'll see that there's sections there of welfare, there's our story, there's photo galleries. There's some videos; we're starting to get good traction on the videos. That helps find out. That's what today's going to be about, to tell the people here our wonderful supporters and our key stakeholders what we're doing with their money.
Bob:                       It's the 10 November today. We've got a function at the Caxton Hotel in Brisbane. What's today all about?
Frank:                   Today's a thank you. It's to thank people like yourself, the people that supply us with raffle prizes, they buy tickets to things, they donate. Most importantly, they go out and visit the community and help them. Wally Fulton Smith [crosstalk 00:05:29]-
Bob:                       I saw Gator come in.
Frank:                   Great Redcliffe man.
Bob:                       He is a great Redcliffe player.
Frank:                   Wally gets out and visits the spinal unit at the PA, he drives to Toowoomba, Dalby, Mackay, Innisfail, wherever to visit people. Just to say thank you to those people, the hard working committee here in Queensland. My staff, to thank them, and people like the Caxton. Some of our partners. Very important, today.
Bob:                       All right, mate, so menofleague.com.au and then they can reach out to the various states from there.
Frank:                   I really encourage people to get to a number of functions that run around Brisbane and broader Queensland, and across Australia. Get out and enjoy them. We've got a Steak and Shiraz on next week at the GABBA. I think you might be going to join us?
Bob:                       It's on the list.
Frank:                   We might get him. They're great days where we can go out and you can share some stories and enjoy guest speakers. If you need a hand we asked people to reach out as well.
Bob:                       That's good.
Frank:                   If you're lonely, if you're doing it tough, if you can't pay the bills, give us a bell.
Bob:                       All right mate. The name of this podcast is "What's In Your Garage?" So we're going to put you right on the spot.
Frank:                   Beauty.
Bob:                       What is in the Frank Barrett garage right now?
Frank:                   I'm driving a brand new Rav4.
Bob:                       Nice.
Frank:                   Lovely little car. Beautiful. I did have-
Bob:                       From Skyfleet?
Frank:                   Skyfleet Motors. They are wonderful supporters, and Steve Duncan and the crew there supplied us with that vehicle. They did sell my vehicle on the weekend and I had the weekend in a Kluger, a Grande. I wouldn't have minded staying in that, it was beautiful. I love the Rav4, and it's a beautiful family vehicle.
Bob:                       Skyfleet's an organisation that's been in the motoring scene in Brisbane for a long, long time. If you're in the market for a Toyota, Steve Duncan at Skyfleet Toyota is the guy to go and talk to.
Frank:                   Really appreciate that. Wonderful supporters of Men of League for a long time and this year we firmed that into a partnership.
Bob:                       That's great.
Frank:                   Really grateful for that.
Bob:                       That's what's in your garage. Of all the cars that you've had, and don't be politically correct and say it's a Toyota, but of all the cars you've had since you were first licenced to drive, what was your favourite car?
Frank:                   Well I'm a bushie from Warrick, and I was once lucky enough in one of my administrative positions to get a brand new Holden ute.
Bob:                       Right, a Commodore ute?
Frank:                   Commodore Holden ute.
Bob:                       [inaudible 00:07:45] work on the weekend, mate?
Frank:                   If I could drive like that I would but I don't think they wanted me off road in it. I'm a bit of an urban bushie, so I threw the dogs in the back for many weeks. I was living in Newcastle, so the Holden ute was what I always wanted and I loved it.
Bob:                       All right, mate now here comes the hardest question. It's the one that a lot of people struggle with. If money was no object, what would you buy?
Frank:                   I'd go and see Bob [Aldons 00:08:08] and tell me what to buy.
Bob:                       No, no. If money was no object. Someone that I spoke to this morning and he blew me away, he said a McLaren P1.
Frank:                   Right. Well see that wouldn't mean a lot to me? Because I'm not terribly savvy on the cars. You know what I'd honestly do? I would get advice off you. I'd ring the Australian Skipper Cameron Smith, and say, "What would I do?" Because he's a petrol head. I think I'd end up with something that was big, maybe like a luxury 4WD-
Bob:                       Yeah, well there's lots of those on the market now. Even Bentley have got a luxury 4WD now called a Bentayga.
Frank:                   There you go. That's what I'd do.
Bob:                       Jaguar F-Pace. All those-
Frank:                   Could you see me in one of those?
Bob:                       Probably not.
Frank:                   Okay. I suppose, and in real honesty-
Bob:                       Maybe in a few years to come. In a few years time when you're a bit older.
Frank:                   Yep.
Bob:                       But not one of those now.
Frank:                   That's what I'd want. I'd want something that's got all of those bells and whistles, the leather trims and the … Which sounds simple, you know that's how much of a bushie I am. Something that holds the road well. I've got a 14 month old so I'd want to make sure-
Bob:                       Nice and safe?
Frank:                   Yeah.
Bob:                       Yeah good.
Frank:                   Am I getting old, Bob? Maybe I'm getting old?
Bob:                       No, you're still a lot younger than me, Frank and that's a good thing.
Mate, I'm really glad that you were able to join us on "What's In Your Garage?" It's a series of podcasts that will be launched in the next month or so, and we'll do one a week. One a week be released. I'll send you a copy of it when it's on air.
Frank:                   I've thoroughly enjoyed it. I look forward to seeing it grow, I'm sure with your name next to it and your drive it will grow.
Bob:                       Thanks, mate, appreciate it. Have a good afternoon.
Frank:                   Good on ya, mate. Afternoon. Cheers.