I've had my business at Rothwell, near Bunnings for over 12 months and during this time, I've not had or seen any serious vandalism, until recently.
There have been two Mazda Cx-3's belonging to a NDIS business parked on Bremner Road for the last couple of months – at least back to November 22. On Australia day eve, 25th January, these two vehicles were vandalized.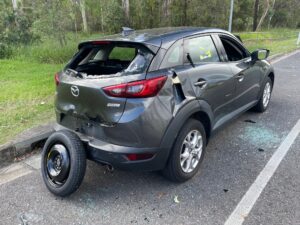 The near new (2022) Mazda CX-3's are collectively worth around $60,000. They've been sitting parked for nearly two months and are now arguably write-offs. I'm not so sure why they were parked there, but probably because there wasn't any off road spots available.
Initially, at least on the morning of the vandalism, they were marked with a "Police Aware" yellow sticker but subsequently both cars have been torn apart by unknown people looking for valuables. Since then spare wheels were taken, and then 1 road wheel was gone. on Saturday night
I'm not sure how the owner will make an insurance claim – if they can at all – but this is a serious lack of respect for property.
If you know of the responsible party, perhaps a call to Policelink on 131 444 will help