A customer asked me to locate a new Kia Picanto S Auto Hatch for her.
Stock of this model is difficult to find. It's on run out with the new model due late in 2023 or perhaps even out to 2024. And this customer wanted a Bumble Bee Yellow.
As usual I sent out quote requests to the dealers I work with. I received a couple of offers back, the best of which was a silver vehicle for $20300. No go said the customer. I want a yellow. So between the customer and I we eventually located a yellow for $20500.
I then heard of a yellow demonstrator available in Brisbane so I asked that dealer for a quote, thinking that I'd be able to buy it cheaper than a new one.
Here's what they offered today 26th September 2023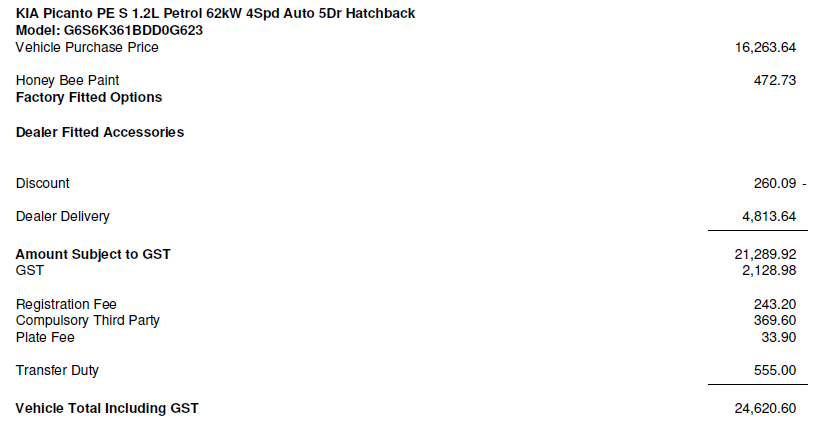 Now the suggested driveway price on the Kia website is $20425.60 for a Queensland sale. So by putting it on as a 'demonstrator' they've jacked the price by $4,195. Why? Because a demonstrator is treated as a used car. And this particular car isn't a demonstrator actually. It's really a brand new car that's been registered so the dealer doesn't have to sell it at the Kia online price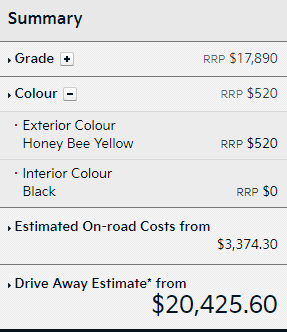 Does this practice win friends? No chance. Will Kia Australia do anything about it? Probably not. It is a 'used car' afterall. Will there be consequences? I hope so but I'm not expecting any.
If you're in the market for a new car then be careful if you're offered a demonstrator. Some dealers will do almost anything to make money.
If you want some honest advice call me on 0418748498 or send an email to bo********@ca*********.au
-Advertisement-
Hello. I'm Bob Aldons, the owner and editor of The Car Guy. The Car Guy is an independently owned car review website. I'm currently reviewing cars for Mazda, Nissan, Kia, Suzuki, Mitsubishi, Haval, MG, Hyundai, Genesis, Jeep, Alfa Romeo, Fiat, Polestar and GWM.
I'm not paid by any car company for my opinion and my companies don't receive advertising revenue to say nice things about them. I call it as I see it. However, I also own a new car broker company – Car Business. Being able to review new cars gives me an opportunity to provide accurate information on these brands. If you're in the market for Any New Car Cheaper, contact me at Car Business and see how I go about saving you some serious money. 
Perhaps you think that you can do the job of buying a new car yourself? If you're after any advice at all, give me a call and ask me any question that you need to be answered.  Best to get me on 0418 748 498 or email to bo********@ca*********.au
If you're an Aussie Veteran or serving in the military, I take particular pride in taking care of you. For every car that I source and deliver, I donate part of my fee to Mates4Mates.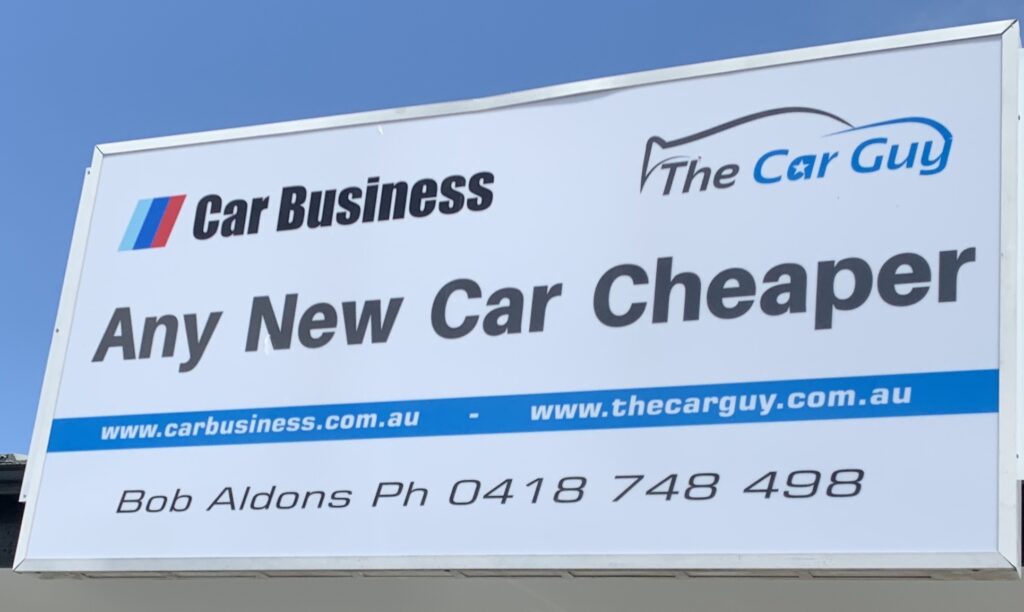 The Car Guy Images
My favourite location for my pictures is at Brighton Park near to the bridges that cross from Brisbane (Brighton) to Redcliffe (Clontarf).
The Houghton Highway, Ted Smout Bridge and what's left of the Hornibrook Highway are generally included. For the information of those not well versed about Redcliffe, the Hornibrook Highway was constructed from 1932 and opened in 1935. All that remains are the entrance and exit of the bridge – the tollhouses. At the time of completion the Hornibrook Viaduct (as it was called then) was the longest road viaduct, built over water in the Southern Hemisphere. The deck was constructed of ironbark timber sourced from the Sunshine Coast hinterland.
2.5 Million Superfeet of wood were transported down the North Pine and Pine Rivers during contruction.
I'm pleased to say that I was able to salvage some bridge timber from the Hornibrook Highway when it was demolished. I had built the desk and coffee table that I use today. A great memory of a heritage listed infrastructure project thats nearly 100 years old
Bob Aldons – BIO
Bob Aldons has spent all his working life (almost) around cars, as a salesman, sales manager, dealer principal, franchise owner or collecting automotive memorabilia. Bob is the current steward of a 1969 Ford Mustang, a 2005 Mini Cooper S and a 2001 Jeep Wrangler. His current 'daily drive' is a Kia EV6 GT. He kicked off Car Business and The Car Guy in 2015 after selling his dealer group, Northstar Chrysler Jeep Dodge, Northstar Fiat and Alfa Romeo, Northstar Isuzu Ute and Northstar Volkswagen. Bob and his wife, Suzi, live in Redcliffe, Queensland.