Hi, Bob Aldons from Car Business on the Job for you. This article is all about your car air conditioner. If it's as hot and humid as it was in Brisbane on January 13th, 2017, then there's every chance that you've noticed that your car air conditioning may be struggling to keep you cool. The air system in your vehicle takes outside air into the air system, removes the moisture in the air and cools it through the air system. If you haven't been using your air conditioner during winter, there's every chance that you may get a stale damp smell coming from your car.
So what tips can I give you to make sure that your car air conditing does the job that's intended and makes the inside of your car much cooler than the air outside and not as smelly.
What causes smells in your Air Conditioning?
Your car air conditioner dries the outside air coming into your vehicle. The moisture in that fresh air has to go somewhere. The moisture is trapped by the evaporator and drains through a tube to the ground outside. Look underneath your car when it's running and you'll see the quantity of water trapped by the evaporator.
It's a damp environment – and dampness is the perfect breeding ground for mold.Mold is made up of fungal elements. It forms on the evaporator and in the HVAC housing when there's no airflow past it.
The mold slowly builds up, then when you switch on the aircon, air passes over the evaporator and carries that stale odor into your car through the air conditioning vents.
You can clear this problem yourself. Glen 20 is a mold remover which can be sprayed into the car's interior air intake. It's generally found on the LH or RH side of the front cabin. If you're not sure which side, then spray it into both areas. Make sure that you have the switch on recirculating and the air system will draw the spray into the evaporator where the mold lives. Spray more than you initially think. The spray must be able to coat all of the mold or it will return.
Prevention is better and easier than the cure. You can keep mold from forming in your car air conditioning system by following this simple process. Just before you turn your engine off, switch the recirculating button, knob back to the fresh air setting. This draws fresh air into the air system and the moisture from inside the evaporator will be eliminated and expelled.
Pollen Filter/Cabin Filter.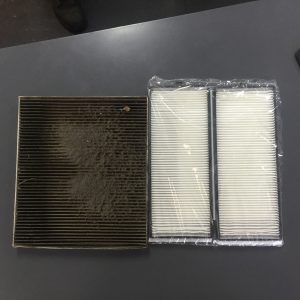 Most service centers and definitely dealers won't explain what a cabin air filter or pollen filter is all about. Most modern cars have them.
Air is drawn into your cars' cabin and passes through this filter. It removes dust, pollen, and detritus from the outside. When your cabin filter gets dirty and plugged, it can trap moisture in its layers as well. That moisture and dirt in the filter is a breeding ground for bacteria. The longer it sits, the more the bacteria spreads and festers in the filter.
Besides that, if you or your family suffer from hay fever, asthma or other respiratory complaints, you MUST ensure that you change your cabin filter and my advice is to do it every year at the end of autumn. Better to be safe than sorry.
If you don't and when you turn on the fan, you're guaranteed to get a noxious odor in your car. The easiest way to remove that odor is to simply replace the cabin air filter. They're not expensive with most costing around $100-$150.
Cooler Car Air Conditioning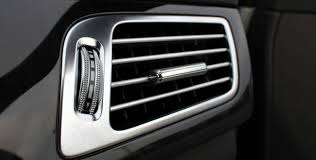 Every spring, besides cleaning your house and making it fresh and new, you should do the same thing to your cars air conditioner. Over time, the refrigerant in the cooling system 'wears out' through use. I've just traded two cars that needed regassing.
A qualified air conditioning technician evacuates the air conditioning refrigerant and replaces it with new gas. The new gas, provided there aren't any leaks in the system will make your car's air system operate the way its intended
How should I use my Car Air Conditioning
When customers were taking delivery of their new vehicles, I always explained the correct way to use the vehicle air system.
Open a couple of windows a bit (half way down is good) and put the fan blower on high with the dial set to fresh air. This pushed out the hot air in the car and cooled the interior quickly. After a couple of minutes, close the windows and let the air system lower the interior temperature.
Then after the interior starts to cool down, reduce the fan speed from high to a lower speed. You'll notice the temperature drop again. Only when it starts to feel comfortable, change the dial from fresh air to recirculating air. (the picture above shows that the fresh air has been changed to recirculating)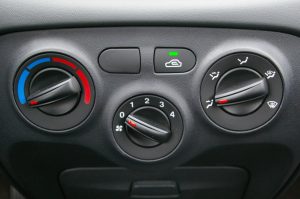 Recirculated air takes the cooler air from inside the cabin and reprocesses it through the receiver dryer. The receiver dryer takes more moisture from the air and pushes colder air into the cabin. The coldest setting on your air conditioning is the lowest fan speed (probably 1) with the air on recirculating.
Not only will you get the coldest air possible, but you'll also find that the air conditioning compressor won't need t operate as ofter. The end result is that you'll achieve better fuel economy in your car as the engine isn't working as hard.
Home mechanics can't service their air conditioning. It requires a license from the Australian Refrigeration Council to do the work and equipment to store the recycled gas.
Let an expert do it for you – call me on 0418 748 498 and I'll arrange a qualified workshop to do the work for you. And I'll provide a courtesy car whilst your car is in for service too.
I'm Bob Aldons from Car Business and I know cars
What's Car Business all about?
Car Business is a multi-dimensional automotive company that aims to help you to buy your new car for a better price than you can do on your own. Based on the Redcliffe Peninsula about 15 minutes from Brisbane Airport and 30 minutes from the Brisbane CBD, Car Business is located in an area that allows us to pick and choose from Brisbane's finest new cars for sale.
The 'go to' Brisbane car buying agents, Car Business, is so much better than a car broker – first and foremost, Car Business is an experienced Car Buyer's Advocacy service. Our experienced staff will stand alongside you and act on your behalf to help you buy your new car at a better price than you can directly through new car dealers.
My goal with Car Business is to provide timely and informative articles on everything to do with cars – used car purchase, new car sales, car service, car finance, car insurance, aftermarket car protection products.
Above anything else, Car Business is a company that provides current automotive advice for car owners who don't have access to knowledgeable car industry friends. To those of you without someone to talk to, I'm your expert – the car guy.
I've been in the car industry since 1978 – covering all aspects that consumers need advice on. I've been called a lot of things in my time – The Car Professor, The Car Doctor, and recently the Car Guy, but the bottom line is that I know a lot about this industry. Whenever someone needs some advice – they call me.
In general terms my car advice is free – it's just something I like to do and my goal is to give back to the community that has treated me so well.
Good quality, Guaranteed Used Cars
I have access to good quality cars – you can see my current stock by clicking through to http://www.carsales.cars my own website for the cars that I have in stock. I'm also able to search out that particular car that you're finding difficult to find. I've got a great dealer community that I've dealt with for many years and these cars don't even hit the websites. I specialize in South East Queensland but in some cases, can look after interstate customers Other areas that I specialize in are fairly widespread.
Genuine Spare Parts, Merchandise and Other Cool Stuff
www.genuinespares.com.au
 is an online spare parts business specializing in Chrysler, Jeep, Dodge, Fiat, Alfa Romeo, Isuzu Ute and Volkswagen. SO if you're looking for anything from crash parts, electrical components, wheels, t-shirts or anything else, let me assist you with that search.  You can rely on genuine spares to procure parts at better than trade price and certainly better than you can buy in Australia. My prices are reduced by about 30% on what you'd expect to pay here in Australia
Car Business Protects Your Car
Don't get ripped off by car dealers wanting to make a huge profit – our window tinting prices start from $175 up to $450 for cars that dealers want to charge $750 for
Car Finance and Car Insurance
My finance and insurance franchise, 
1800Approved Finance
, will help you get finance for your car at rates much lower than a dealer will offer. For a homeowner, we're talking from 4.99%. Your bank won't even offer you that .
It's My Opinion – Cars, Auto Industry
If you're interested in reading quality information about new car releases, forthcoming models and just about anything else to do with the car business,
click over to my blog
about cars.
You'll find various and wide-ranging comment about the car industry and car people. I don't hold back on my comments – like it or not, my opinions are just that – opinions.
In closing, if you want to connect with me here's how
Car Business and Bob Aldons Contact Info
In closing, my passion is cars, car buyers, car dealers, but just about anything to do with cars. But you need to do me 1 favour….
In closing, my passion is cars, car buyers, car dealers, but just about anything to do with cars. But you need to do me 1 favour….
#carbusiness #thecarguy #bobaldons #carbrokers #carbuyersadvocate #discountnewcars #carbuyingservice #bestcarprice #racq #nrma #racv #caradvice #mistakesthatcarbuyersmake