Jeep® Grand Cherokee Trailhawk Named FOUR WHEELER "2017 SUV of the Year"
Follows a press release from Fiat Chrysler Australia regards a recent award for the Jeep Grand Cherokee Trailhawk. Ever since the launch of the WK model, I have been an advocate of the Grand Cherokee. Moreover, despite issues regards reliability and quality in other model lines, Grand Cherokee has done what most of its buyers want – a luxury 4WD, with an excellent towing capability that's priced well under $100,000. Comparable vehicles, Mercedes-Benz, BMW, Audi, and Lexus, will set you back over $120,000 for a vehicle capable of doing the job off-road and with a lot less luxury and tech.
If you are ready to buy a real off-roader, don't discount the Jeep Grand Cherokee. I'm driving an Overland diesel at the moment, and honestly, I love it.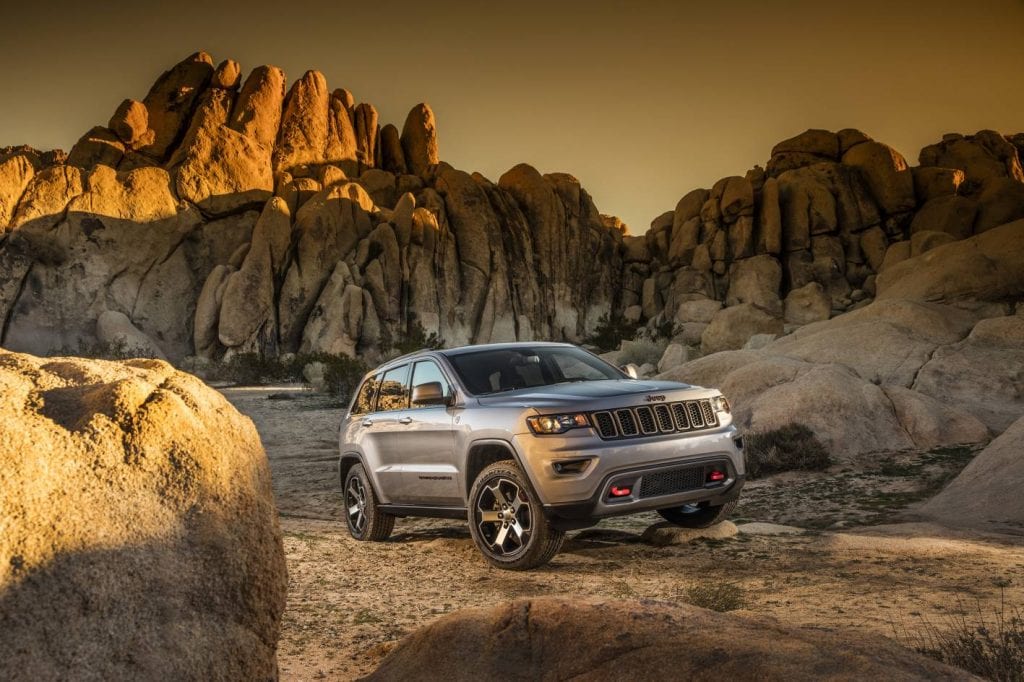 January 26, 2017, Auburn Hills, Mich. – The 2017 Jeep® Grand Cherokee Trailhawk – the most capable Grand Cherokee ever – has been named FOUR WHEELER "2017 SUV of the Year." The award is given annually by the editors of the opinion-leading off-road enthusiast publication.
"The addition of the Trailhawk to the Grand Cherokee model lineup is yet another example of Jeep's commitment to producing vehicles that are just as nimble and capable in the dirt as they are on the paved road," said FOUR WHEELER Editor Ken Brubaker. "The Trailhawk model, which includes a unique version of Grand Cherokee's Quadra-Lift air suspension to improve articulation and suspension travel, takes a capable vehicle and makes it even better. In addition to the great functional upgrades, the Trailhawk package adds a number of visual tweaks to create a handsome and rugged appearance."
Over the course of a week, FOUR WHEELER's judges conducted a variety of tests spanning more than 1,000 miles of terrain that included pavement, gravel, dirt, sand, rocks, mud and snow at elevations ranging from sea level to more than 9,000 feet. During the off-road portion of testing, judges evaluated visibility from the driver seat, four-wheel-drive system selection and performance, tyre performance and durability, engine power and cooling, transmission function and cooling, suspension tuning and performance and traction control system function. Judges spent time on-road evaluating driving characteristics such as handling, ride quality, interior comfort and steering feel. Other factors also taken into consideration include price, fuel efficiency, tyre size and ramp travel index (RTI), which tests suspension articulation.
"Our new Trailhawk model is the most capable Grand Cherokee ever produced, and we're delighted the FOUR WHEELER editors have recognised its outstanding combination of off-road features," said Mike Manley, Head of Jeep Brand – FCA Global. "Trailhawk instantly provided Grand Cherokee customers even more legendary Jeep 4×4 capability, quickly becoming one of the fastest-selling and most sought-after models in our lineup."
Jeep Grand Cherokee Trailhawk
The 2017 Grand Cherokee Trailhawk exemplifies Jeep 4×4 capability with a distinctive, aggressive look, backed by Jeep Trail Rated hardware, resulting in the most capable SUV ever. The Grand Cherokee Trailhawk includes Jeep's Quadra-Drive II 4×4 system with rear Electronic Limited-slip Differential (ELSD) for all powertrains, a unique version of Grand Cherokee's Quadra-Lift air suspension – developed for Trailhawk – that offers improved articulation and total suspension travel, as well as Selec-Speed Control with Hill-ascent and Hill-descent Control, skid plates, 18-inch Goodyear Adventure off-road tires with Kevlar reinforcement, an anti-glare hood decal and signature red tow hooks.
The 2017 Jeep Grand Cherokee Trailhawk model with the standard off-road package is Trail Rated. The "Trail Rated" badge indicates that the vehicle is designed to perform in a variety of challenging off-road conditions identified by five key consumer-oriented performance categories: traction, ground clearance, maneuverability, articulation and water fording.
Jeep Grand Cherokee 
The 2017 Jeep Grand Cherokee delivers legendary 4×4 capability, world-class craftsmanship, superior on-road ride and handling, class-exclusive technology and more than 70 advanced safety and security features.
Jeep Grand Cherokee is the most awarded SUV ever and the vehicle that has long defined what a premium SUV should be. A refined exterior design — complete with available bi-xenon headlamps with signature LED daytime running lamps (DRL) — provides a premium appearance. Legendary Jeep capability comes courtesy of four available 4×4 systems, Jeep's Quadra-Lift air suspension system and class-leading Selec-Terrain traction management system. Grand Cherokee boasts best-in-class towing capacity and a crawl ratio of 44.1:1. Grand Cherokee is available in six different models: Laredo, Limited, Trailhawk, Overland, Summit and SRT.
FOUR WHEELER
First launched in 1962, FOUR WHEELER is the world's first and longest-tenured off-road enthusiast brand and has since become the halo brand for the Four Wheeler Network, which includes other storied off-road-centric titles, such as JP, PETERSEN'S 4-WHEEL & OFF-ROAD, and DIRT SPORTS + OFF ROAD. With a total audience of 24 million, the Four Wheeler Network keeps off-roading enthusiasts informed and entertained. Please visit fourwheeler.com.
What's Car Business all about?
Hi, Bob Aldons from Car Business here. Car Business is a multi-dimensional car company involved in diverse areas of the automotive industry in Australia. Diversity allows us to cater to the needs of our customers, whether retail, dealer or wholesale.
New Car Brokerage
Quality Used Cars
Vehicle Finance and Insurance
Genuine Spare Parts for Jeep, Chrysler, Dodge, Fiat, Alfa Romeo, Isuzu Ute & Volkswagen
Vehicle Protection Products such as paint and Interior protection, Electronic Rustproofing and Window Tint
Local Area Marketing for Google My Business
Training and Development for sales people, sales managers as well as service and parts managers.
Car Business is a multi-dimensional automotive company that aims to help you to buy your new car for a better price than you can do on your own. Based on the Redcliffe Peninsula about 15 minutes from Brisbane Airport and 30 minutes from the Brisbane CBD, Car Business is located in an area that allows us to pick and choose from Brisbane's finest new cars for sale.
The 'go to' Brisbane car buying agents, Car Business, is so much better than a car broker – first and foremost, Car Business is an experienced Car Buyer's Advocacy service. Our experienced staff will stand alongside you and act on your behalf to help you buy your new car at a better price than you can directly through new car dealers.
My goal with Car Business is to provide timely and informative articles on everything to do with cars – used car purchase, new car sales, car service, car finance, car insurance, aftermarket car protection products.
Above anything else, Car Business is a company that provides current automotive advice for car owners who do not have access to knowledgeable auto industry friends. To those of you without someone to talk to, I am your expert – the car guy.
I have been in the automotive industry since 1978 – covering all aspects that consumers need advice. I have been called many things in my time – The Car Professor, The Car Doctor, and recently the Car Guy, but the bottom line is that I know a lot about this industry. Whenever someone needs some advice – he or she will call me.
In general terms my car advice is free – it is just something I like to do, and my goal is to give back to the community that has treated me so well.
Good quality, Guaranteed Used Cars
I have access to good quality vehicles – you can see my current stock by clicking through to http://www.carsales.cars my website for the cars that I have in stock.  I am also able to search out that particular car that you are finding difficult to find. I have got a great dealer community that I have dealt with for many years, and these cars do not even hit the websites. I specialize in South East Queensland but in some cases, can look after interstate customers
Other areas that I specialize in are relatively widespread.
Genuine Spare Parts, Merchandise, and Other Cool Stuff
www.genuinespares.com.au is an online spare parts business specializing in Chrysler, Jeep, Dodge, Fiat, Alfa Romeo, Isuzu Ute and Volkswagen. So if you are looking for anything from crash parts, electrical components, wheels, t-shirts or anything else, let me assist you with that search.  You can rely on genuine spares to procure parts at better than trade price and certainly better than you can buy in Australia. My prices are reduced by about 30% on what you would expect to pay here in Australia
Car Business Protects Your Car
Car Business is a local agent for Williams Paint and Interior Protection,  AutoGard and CleanGard, SunX window tinting.
Don't get ripped off by car dealers wanting to make a huge profit – our window tinting prices start from $175 up to $450 for cars that dealers want to charge $750 for.
Car Finance and Car Insurance
My finance and insurance franchise, 1800Approved Finance, will help you get finance for your car at rates much lower than a dealer will offer. For a homeowner, we are talking from 4.99%. Your bank will not even offer you that.
It's My Opinion – Cars, Auto Industry
If you are interested in reading quality information about new car releases, forthcoming models and just about anything else to do with the car business, click over to my blog – https://carbusiness.com.au/wpcbadmn//blog/
You will find wide-ranging comment about the automotive industry and car people. I do not hold back on my comments – like it or not; my opinions are just that – opinions.
In closing, if you want to connect with me here's how
Car Business and Bob Aldons Contact Info
Phone:                        International           +61 418 748 498
Local                          0418 748 498
Email:                        in**@ca*********.au
Visit:                           226 Anzac Avenue
Kippa-Ring            Q 4021
In closing, my passion is cars, car buyers, car dealers, but just about anything to do with cars. However, you need to do me one favour….
Please drive carefully
Warm regards
Bob Aldons
#carbusiness #thecarguy #bobaldons #carbrokers #carbuyersadvocate #discountnewcars #carbuyingservice #bestcarprice #racq #nrma #racv #caradvice #mistakesthatcarbuyersmake