Hi, Bob Aldons from Car Business writing to you about fuel price rip off in Brisbane. Have a look at the picture below. I shook my head in amazement and uttered an expletive. Forgive me, but the word fuck is in the Oxford dictionary and defined as "Used alone or as a noun or verb in various phrases to express annoyance, contempt, or impatience" So when I looked at the Caltex price board, I just said to myself – Fuck.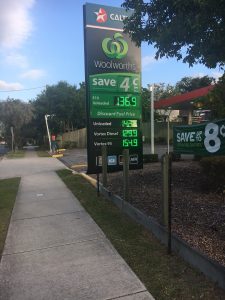 I'm a petrol price watcher. I have been for a long time. And I'm not really sure why but I think I've become an obsessive compulsive petrol price watcher.  I use Woolworths vouchers to get 4 cents off my bill, I wait until prices drop rather than fill up at the higher price. I'll drive a bit out of my way when I'm nearly empty to fill the tank and save some money – $2.80 – when I use my vouchers. I get upset at myself when I think I have a 4c credit on my card and the attendant tells me I don't.
So perhaps you'll understand my reaction to seeing unleaded petrol at $1.429 per litre. I went home and did some quick research. The nightly news told me that this was because of rising oil prices. Rubbish. Excuse the clarity of this graph, but let me explain.
The top three lines are for Unleaded Petrol, and diesel, while the third line is for Tapis Crude Oil. These are the factors that our petrol prices are based on.
The green line at the bottom is the exchange rate – Australian Dollar v US Dollar. So you 'll see pretty clearly that the lines are getting closer, converging and that there's no justification for prices to go higher other than the oil companies want to make more money.
The other point in question and one that I'm only thinking about right now is that it doesn't appear that we have a Recommended Retail Price (RRP) for fuel. Every other or at least most other commodities do – cars, soft drinks, cigarettes, photocopy paper, print, television and radio advertising, and if you believe Rugs a Million advertising, even rugs do.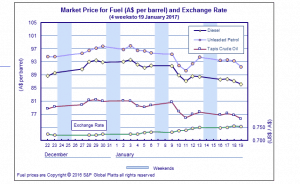 So why hasn't someone demanded that oil companies publish a recommended retail price? At least then we'd be able to determine for ourselves whether we're getting a fair price, a great price or we're being ripped off.
I firmly believe that oil companies are almost a law unto themselves. The various State Governments can't control them, the Australian Consumer and Competition Commission (ACCC) can't, so it's left up to the average consumer to do battle themselves. And I think we've lost the battle and are most certainly losing the war. So how do we get a fair deal on one of our biggest expenses?
So what follows are my opinions. Whether you like to follow them is entirely up to you, but be very aware that if you continue to allow oil companies to rip you off, you'll just keep getting more of the same.
FUEL-FREE FRIDAY
Most petrol stations are owned or run by multinationals companies. Coles and formerly Woolworths accounted for almost half the service stations in Australia. Even excluding these, most fuel stations are controlled by international oil companies. Even those held by private operators are reliant on the terminal gate pricing set by the oil companies.
Do you think Shell, (Dutch) BP (English) Mobil (American) or Caltex (Australian) really care about anything else than their profit? If you think they are kind and caring, think again.
So how do you as a private driver, small business or even large business focus your wrath on the multi-nationals? One way to get their attention is to stop buying fuel! Easier said than done, but if perhaps choose 1 day a week NOT to buy your fuel, then maybe we'll get their attention. Fuel-Free Friday can start that revolution. I've just created a Facebook page named just that. Put your pictures and comments on the page – let the oil companies know that you're as mad as hell and you're not going to take it anymore.  Here's the clickable link –
 https://www.facebook.com/fuelfreefriday
 And what else? Get in touch with the ACCC. Tell them you're not going to put up with this madness any longer. Comment and Complain here:
So, the rest is up to you. If you just sit back and do nothing, nothing is exactly what you'll get. Complain to someone, add a comment, submit pictures to the Fuel-Free Friday Facebook page.
LET THE REVOLUTION BEGIN
What's Car Business all about?
Car Business is a multi-dimensional automotive company that aims to help you to buy your new car for a better price than you can do on your own. Based on the Redcliffe Peninsula about 15 minutes from Brisbane Airport and 30 minutes from the Brisbane CBD, Car Business is located in an area that allows us to pick and choose from Brisbane's finest new cars for sale.
The 'go to' Brisbane car buying agents, Car Business, is so much better than a car broker – first and foremost, Car Business is an experienced Car Buyer's Advocacy service. Our experienced staff will stand alongside you and act on your behalf to help you buy your new car at a better price than you can directly through new car dealers.
My goal with Car Business is to provide timely and informative articles on everything to do with cars – used car purchase, new car sales, car service, car finance, car insurance, aftermarket car protection products.
Above anything else, Car Business is a company that provides current automotive advice for car owners who don't have access to knowledgeable car industry friends. To those of you without someone to talk to, I'm your expert – the car guy.
I've been in the car industry since 1978 – covering all aspects that consumers need advice on. I've been called a lot of things in my time – The Car Professor, The Car Doctor, and recently the Car Guy, but the bottom line is that I know a lot about this industry. Whenever someone needs some advice – they call me.
In general terms my car advice is free – it's just something I like to do and my goal is to give back to the community that has treated me so well.
Good quality, Guaranteed Used Cars
I have access to good quality cars – you can see my current stock by clicking through to http://www.carsales.cars my own website for the cars that I have in stock.  I'm also able to search out that particular car that you're finding difficult to find. I've got a great dealer community that I've dealt with for many years and these cars don't even hit the websites. I specialize in South East Queensland but in some cases, can look after interstate customers
Other areas that I specialize in are fairly widespread.
Genuine Spare Parts, Merchandise and Other Cool Stuff
www.genuinespares.com.au is an online spare parts business specializing in Chrysler, Jeep, Dodge, Fiat, Alfa Romeo, Isuzu Ute and Volkswagen. SO if you're looking for anything from crash parts, electrical components, wheels, t-shirts or anything else, let me assist you with that search.  You can rely on genuine spares to procure parts at better than trade price and certainly better than you can buy in Australia. My prices are reduced by about 30% on what you'd expect to pay here in Australia
Car Business Protects Your Car
Car Business is a local agent for Williams Paint and Interior Protection,  AutoGard and CleanGard, SunX window tinting.
Don't get ripped off by car dealers wanting to make a huge profit – our window tinting prices start from $175 up to $450 for cars that dealers want to charge $750 for.
Car Finance and Car Insurance
My finance and insurance franchise, 1800Approved Finance, will help you get finance for your car at rates much lower than a dealer will offer. For a homeowner, we're talking from 4.99%. Your bank won't even offer you that .
It's My Opinion – Cars, Auto Industry
If you're interested in reading quality information about new car releases, forthcoming models and just about anything else to do with the car business, click over to my blog – https://carbusiness.com.au/wpcbadmn//blog/
You'll find various and wide-ranging comment about the car industry and car people. I don't hold back on my comments – like it or not, my opinions are just that – opinions.
In closing, if you want to connect with me here's how
Car Business and Bob Aldons Contact Info
Phone:          International           +61 418 748 498
Local                          0418 748 498
Email:           in**@ca*********.au
Visit:              226 Anzac Avenue
Kippa-Ring Q 4021
Mail:              PO Box 195
Clontarf Q 4019
In closing, my passion is cars, car buyers, car dealers, but just about anything to do with cars. But you need to do me 1 favour….
Please drive carefully
Warm regards
Bob Aldons
#carbusiness #thecarguy #bobaldons #carbrokers #carbuyersadvocate #discountnewcars #carbuyingservice #bestcarprice #racq #nrma #racv #caradvice #mistakesthatcarbuyersmake