Hi, Bob Aldons from Car Business back with a couple of posts before 2017 rolls around. I'm pleased to provide you with an early look at the 2017 Volkswagen Golf courtesy of industry colleague Brett Davis of PerformanceDrive. I've been a lover and advocate of the Golf ever since I became a Volkswagen dealer in 2009. In my opinion, Golf is one of the best built small cars anywhere in the world and I include the likes of BMW and Mercedes-Benz as well as sister brand Audi.
Volkswagen technology has been consistently at the top of the curve and despite 'dieselgate' I can't think of another car which combines the tech and value for money that Golf provides. And don't get me started on the GTI and R versions. As Jeremy Clarkson says – it's so good that he bought one.
As I was leaving my dealership back in 2015, I had a Golf Wolfsburg on order which the incoming owner denied me of. I was sufficiently impressed to want to 'buy' one myself. So sit back and read Brett's opinion of the upcoming 2017 Golf. Probably due around April, I'll be sure to give you a proper run through and thoughts on what will be Volkswagens biggest seller next year.
Following a number of image leaks, Volkswagen has now officially unveiled the 2017 Golf facelift as promised, bringing more advanced technology inside and out, and a slightly updated design.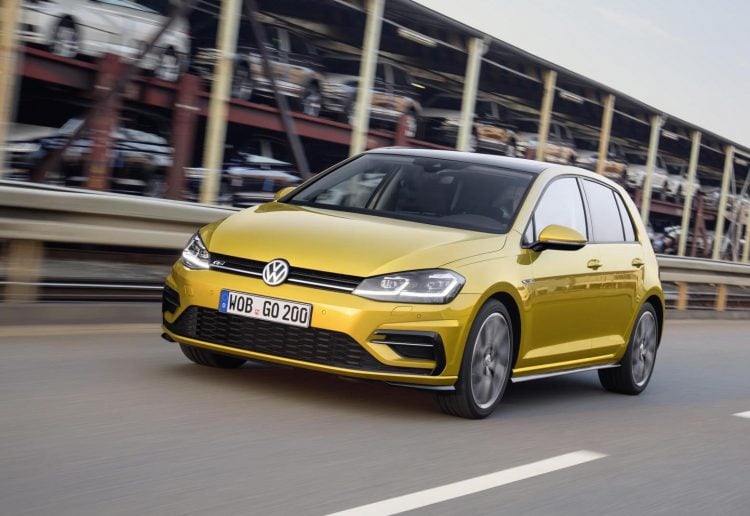 Firstly, the design. It's a very mild update but it does look a bit more grown up and more intelligent. There's LED headlights and LED taillights with dynamic Audi-like indicators, new bumpers bars with sporty lower sections, and some new alloy wheel designs.
Inside, Volkswagen has, as predicted, added a fully digital instrument cluster, following in the footsteps of VW's higher-end brands such as Audi. It's configurable in a number of ways allowing users to select their favourite layout, including the possibility to add map details.
There's also a new 9.2-inch touch-screen interface available, along with new 6.5- and 8.0-inch systems for entry grades.
These introduce a host of clever new functions, including predictive touch and gesture control, along with plenty of built-in apps including internet-based music streaming, traffic alerts and of course sat-nav with Google Maps and Google Earth via Car Net phone connectivity – Volkswagen is calling the new model the first online Golf.
The 2017 Golf showcases a number of advanced driving assistance systems too, including automated traffic jam control, emergency assist automatic braking, and adaptive cruise control.
As for the powertrain options, the 2017 Golf will come with the company's new 1.5-litre turbo petrol four-cylinder engine, called the 'EA211 evo'. It produces 110kW and 250Nm. Average fuel consumption is rated at 4.9L/100km. A BlueMotion version will be offered with 96kW/200Nm, presenting an average consumption figure of just 4.6L/100km.
For the GTI the regular version is bumped up to 169kW while the GTI Performance now produces 180kW. Acceleration figures are yet to be confirmed.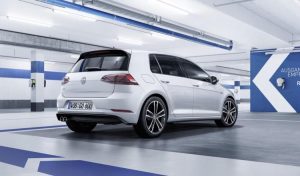 Volkswagen is boasting a smart new coasting function for engines to further improve efficiency, which shuts down the engine completely when coasting without throttle (not just dropping to idle). Some engines also feature cylinder-deactivation technology or Active Cylinder Management as VW calls it, including for the new 1.5.
Volkswagen confirms the new GTE plug-in hybrid variant, which is specified similar to the GTI, as well as a new e-Golf fully electric model offering a range of 300km. The new e-Golf will be revealed at the LA auto show next week, the company confirms.
The new model is expected to go on sale in Australia early next year, with official local details yet to be revealed. You can watch a recording of the live stream of the reveal below.
Source: http://performancedrive.com.au/
About the author Brett Davis – Brett is the editor and founder of PerformanceDrive. He's obsessed with driving, having played with Matchbox cars until he was tall enough to drive a real one. After initially working as a mechanic, Brett earned a degree in journalism and entered media as an editorial assistant at Top Gear Australia magazine. He then worked at CarAdvice.com.au. His dream is to live next door to the Nurburgring in Germany.
What's Car Business all about?
Car Business is a multi-dimensional automotive company that aims to help you to buy your new car for a better price than you can do on your own. Based on the Redcliffe Peninsula about 15 minutes from Brisbane Airport and 30 minutes from the Brisbane CBD, Car Business is located in an area that allows us to pick and choose from Brisbane's finest new cars for sale.
The 'go to' Brisbane car buying agents, Car Business, is so much better than a car broker – first and foremost, Car Business is an experienced Car Buyer's Advocacy service. Our experienced staff will stand alongside you and act on your behalf to help you buy your new car at a better price than you can directly through new car dealers.
My goal with Car Business is to provide timely and informative articles on everything to do with cars – used car purchase, new car sales, car service, car finance, car insurance, aftermarket car protection products – everything.
Above anything else, Car Business is a company that provides current automotive advice for car owners who don't have access to knowledgeable car industry friends. To those of you without someone to talk to, I'm your expert – the car guy.
I've been in the car industry since 1978 – covering all aspects that consumers need advice on. I've been called a lot of things in my time – The Car Professor, The Car Doctor, and recently the Car Guy, but the bottom line is that I know a lot about this industry. Whenever someone needs some advice – they call me.
In general terms my car advice is free – it's just something I like to do and my goal is to give back to the community that has treated me so well.
Good quality, Guaranteed Used Cars
I have access to good quality cars – you can see my current stock by clicking through to www.carsales.cars.  I'm also able to search out that particular car that you're finding difficult to find. I've got a great dealer community that I've dealt with for many years and these cars don't even hit the websites. I specialize in South East Queensland but in some cases, can look after interstate customers
Other areas that I specialize in are fairly widespread.
Genuine Spare Parts, Merchandise and Other Cool Stuff
www.genuinespares.com.au is an online spare parts business specializing in Chrysler, Jeep, Dodge, Fiat, Alfa Romeo, Isuzu Ute and Volkswagen. SO if you're looking for anything from crash parts, electrical components, wheels, t-shirts or anything else, let me assist you with that search.  You can rely on genuine spares to procure parts at better than trade price and certainly better than you can buy in Australia. My prices are reduced by about 30% on what you'd expect to pay here in Australia
Car Business Protects Your Car
Car Business is a local agent for Williams Paint and Interior Protection,  AutoGard and CleanGard, SunX window tinting.
Don't get ripped off by car dealers wanting to make a huge profit – our window tinting prices start from $175 up to $450 for cars that dealers want to charge $750 for.
Car Finance and Car Insurance
My finance and insurance franchise, 1800Approved Finance, will help you get finance for your car at rates much lower than a dealer will offer. For a homeowner, we're talking from 4.99%. Your bank won't even offer you that .
It's My Opinion – Cars, Auto Industry
If you're interested in reading quality information about new car releases, forthcoming models and just about anything else to do with the car business, click over to my blog – https://carbusiness.com.au/wpcbadmn//blog/
You'll find various and wide-ranging comment about the car industry and car people. I don't hold back on my comments – like it or not, my opinions are just that – opinions.
In closing, if you want to connect with me here's how
Car Business and Bob Aldons Contact Info
Phone:         International           +61 418 748 498
Local                          0418 748 498
Email:          in**@ca*********.au
Visit:            226 Anzac Avenue
Kippa-Ring Q 4021
Mail:            PO Box 195
Clontarf Q 4019
In closing, my passion is cars, car buyers, car dealers, but just about anything to do with cars. But you need to do me 1 favour….
Please drive carefully
Warm regards
Bob Aldons
#carbusiness #thecarguy #bobaldons #carbrokers #carbuyersadvocate #discountnewcars #carbuyingservice #bestcarprice #racq #nrma #racv #caradvice #mistakesthatcarbuyersmake