Hi, Bob Aldons, The Car Guy writing about my experience on the M1 last Sunday with regards to Christmas Road Safety.
When I drive, I'm generally driving on the North Coast highway between Redcliffe and Peachester, to our holiday home. Peachester is 10 minutes west up the range from Beerwah, not far from Australia Zoo. From Peachester, it's another 20 minutes to Maleny, using Bald Knob Road. And this road is amazing for motorbikes and particularly sports cars. I've had some great trips in my previous cars, a Ferrari F430 and a 458, my recently stolen Alfa Romeo Giulia QV and now my M3.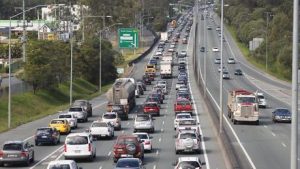 So, I was a little startled to encounter the traffic on the M1 – we left Redcliffe about 9.30 and hit the M1 a bit later. All were reasonable on the highway until I came to Springwood. A maniac in a Holden Ute thought that the highway was his personal race track – I saw and heard him coming from a long way off – he was darting in and out of traffic until he decided to turn off on a slip road near the Logan Hyperdome. In addition to this idiot, any number of cars that we passed on the way was missing a brake light and one individual didn't have any brake lights at all
So all fairly calm until we hit the traffic at Nerang – I can understand the frustration of drivers having to reduce speed in a 100klm an hour zone to 40kph and I'm wondering how the Gold Coast and hinterland roads are really going to accommodate the Commonwealth Games traffic – it will be a nightmare and I agree with the organizers not to leave it too late to travel. If you're coming down from the north side of Brisbane, I'd park and take the train.
So not long after the Broadbeach turnoff, again we encountered another lunatic. In his Subaru wagon, he was also weaving in and out of traffic, but this champion had 3 small children in his car. How did we know that – three car seats in the back we filled with small people. And I'm sure that if he had that inevitable accident that he'd be blaming everyone else but himself if his kids were injured.
But probably the worst of this unacceptable behavior was the young man driving his XR6 Falcon. He in the blue car with a loud exhaust was weaving in and out of traffic but doing it at about 140kph. We were travelling at 110 in reasonably light traffic but this fool obviously didn't or doesn't respect the speed limit. Again I saw him coming from a way off and moved into the centre lane. He was overtaking cars on the LH verge, darting in and out of lanes' 1, 2 3 and four at speed. The only sad thing was that the two highway patrol motorcycles were already ticketing cars and either didn't see him or decided that he was too far gone for them to give chase. Road safety is important but ever so more for Christmas Road Safety.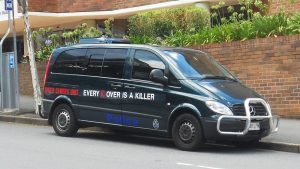 And apart from a Mazda wagon that inadvertently tried to run me off the road, that was the journey. We had a lovely day, visiting a sick mate at John Flynn hospital, a nice lunch and walkabout in Burleigh Heads. On reflection, I can understand the frustration of the Queensland Police Service. Why do people drive like they do particularly during peak traffic times?
I think that they all feel that they're bulletproof that they have superior driving skills to most other drivers and that they don't value either their lives or the lives of their passengers or fellow motorists. It's time for some serious attention to road safety. Queensland Premier Palaszczuk– the ball's in your court.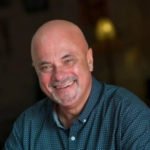 Bob Aldons is the owner and founder of The Car Guy, reviewing cars, reporting on Car Industry Matters, Car Tech and the world at large.
Find One
If you're hunting around for a great price on your next new car, you should call the auto expert, Bob Aldons from Car Business. My company, a car Broker, Car Buyers Agent or Car Buyers Advocate based on the north side of Brisbane, will return your inquiry within 24 hours and make the process of buying a new car easy and stress-free. Are you tired of salesperson tricks? I protect you from the pressure exerted by car dealer's salespeople. There isn't any obligation – just a pretty significant saving.
You're where? Seriously, my services are available for you in any Australian state and territory: from Darwin to Hobart, Cairns to Perth.  Car Broker Brisbane, Sydney, Melbourne, Adelaide, Perth, Hobart, and Darwin – I'm available when you need me to be.
Here's an example
Matt wanted to purchase a Mazda 3 SP25 GT Manual Hatch. The retail value, drive away on that car is around $35,000. Car Business managed to purchase the same car for $28, 123.90 and with our fee Matt paid $25, 588, a saving of over $6000. And how do we know? Another customer, (looking for a new Holden HSV) just paid $35,000 for the same car – but he did it himself, without our assistance
If you've got a vehicle to trade, we have some clever ways to maximize the value – from used car dealers keen for your car to assist you to sell it privately. Finance and Insurance? We can handle that too, and we promise you will not be paying exorbitant dealer markups there either.
Trade In Value Example
2014 Jeep Cherokee Limited. Average dealer trade value – $16500. We achieved $22,000
2014 Volkswagen Tiguan 118TSI. Average dealer trade value – $14000. We achieved $16000
So, to get the best new car price, talk to others and then talk me. I've got the experience to handle the dealers and achieve the lowest new car prices. If you think you're entitled to fleet pricing, I can often get better than that too. Whether you're a small fleet or a large national fleet, Car Business will go to work and get that price down. Lower new car prices are my goal. So you'll get the best prices from us rather than hoping you can help yourself.
If I can't get you the best new car price, better than you can get yourself from a car dealer, we won't charge you any fee. No Saving, No Fee. – that's what you should expect from a car buying expert. 
Car Business WILL save you money on your next new car purchase – guaranteed