As a Car Broker, Car Business can arguably buy any new car cheaper than you can yourself.
Let's have a look at a recent experience buying a new Kia Cerato Sport Hatch, Automatic with a Safety Pack for Tony from Highgate Hill in Brisbane.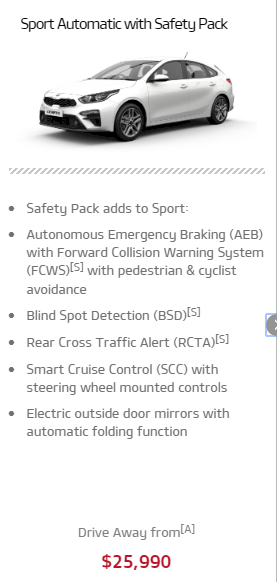 After 40 years in the car industry, I've developed a process to help my customers avoid the runaround and stress they can experience from unprofessional new car dealers.
So, don't get me wrong. There are many highly qualified car salespeople in the industry, but these pros are few and far between. If you were allowed to do a survey of salespeople in a typical dealership, you'd find that most of them have been employed there for a very short time. Those that have been in their dealerships for more than say 2 years are considered as long term employees.
I've recently been asked to help a customer purchase a new Kia Cerato Sport Sedan and here are the results of the tender.
2019 Kia Cerato Sport Sedan with a 2.0-litre Petrol Engine and Automatic transmission in Clear White with a safety pack.
Current Kia Advertised Offer $25,990 (indicated above) (Check expiry date)
And here are the best 5 offers that I received from a group of Kia Dealers in South East Queensland
Offer 1     $25,577
Offer 2     $24,900
Offer 3     $24,387
Offer 4     $24,900
Offer 5     $24,600
So you'll easily see that the difference between the advertised price and the best offer I received was $1,603 and isn't that better in your pocket than the dealers? Even after my fee of $330 that still saves this customer $1,273 and that buys nearly 1000 litres of fuel, or pays the insurance on the car for 2 years or pays a lump off the house mortgage.
You'll find that apart from a nominal retainer if I don't save you money on what you'd get yourself from a new car dealer, I don't charge any more. That's it. If I can't save you on your new car purchase, there's no fee.
Shop around as much as you like, but before you put pen to paper, talk to The Car Guy from Car Business. Phone me now on 0418 748 498 or email to bo********@ca*********.au