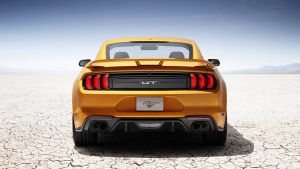 Good morning, Bob Aldons from Car Business on the Job and today's article is provided by autoweek.com our US industry colleagues. And this post is all about the 2018 Mustang which will hit US dealers showrooms in September 2017. And my question, at least for anyone considering the purchase of a Mustang is which one will you get? A customer of mine, Dave, is thinking about purchasing a Mustang now for delivery in June or July. So should he wait or should he go? Here's an interesting question to ask your Ford dealer before you get the 'old' model. Autoweek gives us the run-down on what's new in the 18 Mustang. Enjoy the read and hey, share it with your friends, please.
NEW 'STANG GETS A FRESH FACE AND MORE CUSTOMIZATION OPTIONS, DITCHES THE V6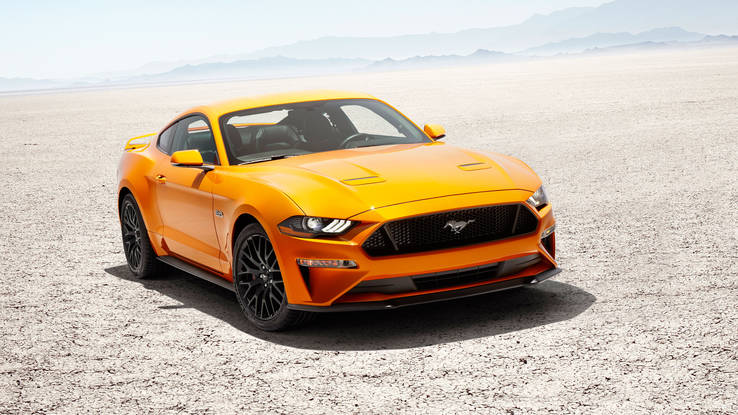 Ford created the sixth-generation Mustang, and it was good. Then, a few years later, it created the Shelby GT350, and it was even better — and besides, the cross-town competition wasn't exactly asleep on the job.
Fortunately, for the 2018 Mustang, the Blue Oval took some of what we liked about the Shelby GT350 — we're talking about ride and aesthetics, not the flat-plane-crank V8 (sorry) — and applied it to the entire pony car lineup. Take, for example, the MagneRide adaptive magnetorheological suspension system, which will now be available across the board.
Or the refreshed face: The nose is noticeably lower, which gives the car a wider and (we think) meaner look. Narrow LED headlamps peer out from the corners; the fog lights and turn signals below them are optionally LEDs. The sheetmetal from the A-pillar forward has been modified to meet the new fascia, and that includes the hood — and we're pleased to report that all the vents you see serve some actual function.

The doors and rear quarters carry over, while out back, the tail gets reworked — though less substantially than the nose. Quad exhaust tips are standard on the V8-powered GT cars. An active exhaust setup is optional; we listened to a recording with some nice headphones, and, while admittedly a poor substitute for the real thing, it sounded pretty nasty.
A dozen wheel options, plus a trio of new/old colors (Kona blue, orange fury and royal crimson) and an off-the-decklid spoiler give you ample opportunities to customize your pony car as you see fit.
The interior is going to look fairly familiar, but from the shape of the dash to soft-touch surfaces on the center console, there are redesigns and upgrades. An 12-inch digital dashboard is available (though you can also stick with more traditional instrumentation); select it, and you'll get a quarter-mile and lap timer and more. We're eager to play around with it on a closed course (naturally). We like the optional two-tone perforated leather seats; they let just a bit of extra color peek through the surface. The effect is subtle but cool.
The biggest under-the-skin change? The elimination of the 3.7-liter V6. Positioned as the entry-level motor, it offered neither the fuel economy of the smaller turbo four nor the attitude of the V8. Turns out that those who want the 5.0's power and soundtrack are willing to pay for it, and the fuel it consumes, no matter where in the world they might be; for everyone else, the torquey 2.3-liter seems to be a better fit (it accounts for 40 percent of the global Mustang market, and 35 percent here at home).
The two remaining motors do get reworked for 2018. The V8 gets a new-to-Mustang so-called "dual-fuel" port-and-direct-fuel injection system and an increased compression ratio (from 11:1 to 12:1), yielding an as-of-yet unspecified output boost. The 2.3-liter enjoys increased torque (again, the amount is unspecified) and Ford claims full-throttle acceleration has been improved as well.
Behind those updated motors sits either a new 10-speed automatic transmission (up four gears over the outgoing six-speed) or a six-speed manual. Per Mustang chief engineer Cal Widman, the auto will offer the "quickest shifts on a Mustang" ever, while on the V8 cars, the manual will now get a twin-disc clutch and dual-mass flywheel. We hope the new manual setup is, as Ford claims, easier and smoother to modulate — something we've been asking for since our first drive back in 2014.
We're still waiting on exact outputs and full specifications for the updated pony car, as well as pricing — though Ford says that, despite the elimination of the V6, the point of entry won't shift "too much."
And, of course, we're eager to see how it drives. Expect to see the 2018 Mustang at US dealers in September
What's Car Business all about?
Car Business is a multi-dimensional automotive company that aims to help you to buy your new car for a better price than you can do on your own. Based on the Redcliffe Peninsula about 15 minutes from Brisbane Airport and 30 minutes from the Brisbane CBD, Car Business is located in an area that allows us to pick and choose from Brisbane's finest new cars for sale.
The 'go to' Brisbane car buying agents, Car Business, is so much better than a car broker – first and foremost, Car Business is an experienced Car Buyer's Advocacy service. Our experienced staff will stand alongside you and act on your behalf to help you buy your new car at a better price than you can directly through new car dealers.
My goal with Car Business is to provide timely and informative articles on everything to do with cars – used car purchase, new car sales, car service, car finance, car insurance, aftermarket car protection products.
Above anything else, Car Business is a company that provides current automotive advice for car owners who don't have access to knowledgeable car industry friends. To those of you without someone to talk to, I'm your expert – the car guy.
I've been in the car industry since 1978 – covering all aspects that consumers need advice on. I've been called a lot of things in my time – The Car Professor, The Car Doctor, and recently the Car Guy, but the bottom line is that I know a lot about this industry. Whenever someone needs some advice – they call me.
In general terms my car advice is free – it's just something I like to do and my goal is to give back to the community that has treated me so well.
Good quality, Guaranteed Used Cars
I have access to good quality cars – you can see my current stock by clicking through to http://www.carsales.cars my own website for the cars that I have in stock.  I'm also able to search out that particular car that you're finding difficult to find. I've got a great dealer community that I've dealt with for many years and these cars don't even hit the websites. I specialize in South East Queensland but in some cases, can look after interstate customers
Other areas that I specialize in are fairly widespread.
Genuine Spare Parts, Merchandise and Other Cool Stuff
www.genuinespares.com.au is an online spare parts business specializing in Chrysler, Jeep, Dodge, Fiat, Alfa Romeo, Isuzu Ute and Volkswagen. SO if you're looking for anything from crash parts, electrical components, wheels, t-shirts or anything else, let me assist you with that search.  You can rely on genuine spares to procure parts at better than trade price and certainly better than you can buy in Australia. My prices are reduced by about 30% on what you'd expect to pay here in Australia
Car Business Protects Your Car
Car Business is a local agent for Williams Paint and Interior Protection,  AutoGard and CleanGard, SunX window tinting.
Don't get ripped off by car dealers wanting to make a huge profit – our window tinting prices start from $175 up to $450 for cars that dealers want to charge $750 for.
Car Finance and Car Insurance
My finance and insurance franchise, 1800Approved Finance, will help you get finance for your car at rates much lower than a dealer will offer. For a homeowner, we're talking from 4.99%. Your bank won't even offer you that .
It's My Opinion – Cars, Auto Industry
If you're interested in reading quality information about new car releases, forthcoming models and just about anything else to do with the car business, click over to my blog – https://carbusiness.com.au/wpcbadmn//blog/
You'll find various and wide-ranging comment about the car industry and car people. I don't hold back on my comments – like it or not, my opinions are just that – opinions.
In closing, if you want to connect with me here's how
Car Business and Bob Aldons Contact Info
Phone:          International           +61 418 748 498
Local                          0418 748 498
Email:           in**@ca*********.au
Visit:              226 Anzac Avenue
Kippa-Ring Q 4021
In closing, my passion is cars, car buyers, car dealers, but just about anything to do with cars. But you need to do me 1 favour….
Please drive carefully
Warm regards
Bob Aldons
#carbusiness #thecarguy #bobaldons #carbrokers #carbuyersadvocate #discountnewcars #carbuyingservice #bestcarprice #racq #nrma #racv #caradvice #mistakesthatcarbuyersmake