Hi, Bob Aldons from Car Business with an article on Uber. It's no surprise that I'm not an Uber advocate – I was a director & shareholder in a Taxi Management Company from 2012 to 2014 but sold my stake to reinvest the funds in my own franchise car dealership.
I was pretty lucky – I didn't lose any money on that investment, but I didn't make any either. Soon after my exit a little-known start-up called Uber arrived on the scene in Australia. The aspect of this incursion into the personal transport business is that Uber did what they did illegally and 'forced' state governments to remodel the taxi business to cope with Uber.  
What if Uber had been a weapons marketing company? Uber broke the law of the land but was allowed to get away with it. The Uber experience has caused untold stress to the owners and operators of taxis in Australia. My friends in the industry in Queensland are beside themselves as to the impact of Uber on their business. The Queensland government has offered $20,000 compensation to license owners even though those same operators paid upwards of $400,000 for those same licenses in Queensland Government tenders over the years. If this happened in a normal commercial environment, I could see lawsuits and the ambulance chasers rubbing their hands together, looking at class actions.
 So subsequently I was very interested to read a story published on the Ride Share Guys website. Harry Campbell's web site – www.therideshareguy.com presents articles on his experience with ride sharing in the USA. This particular article by Christian Perea is worth a read not only by ride share drivers working for Uber and any others but also the State Government people who allowed this to happen. So please read and perhaps sign up to Harry's emails.
Uber's Upfront Pricing is Secretly Overcharging Passengers Without Paying Drivers
By Christian Perea on Sep 26, 2016 08:33 am
Harry here.  One of our goals has always been to bring more transparency to the rideshare industry.  And today, senior RSG contributor Christian Perea takes a look at Uber's new Upfront pricing system.
Over the past few weeks, we have been receiving emails that Uber's "Upfront" fares have been overcharging passengers without paying drivers the difference. And in some instances, passengers are getting charged double the actual time and distance for a normal ride yet drivers are receiving only about half of the amount the passenger pays while Uber is pocketing the difference.
If you're not familiar with the move to upfront fares, Uber detailed it in a blog post a few months ago.  Basically, passengers in major markets are now required to enter a destination and the fare they're quoted is a guaranteed price for that ride.  On surge rides, there is small text that says 'fares are increased due to higher demand' instead of passengers having to type in the surge amount like they used to.
Examples of Uber "Skimming Off The Top" of Upfront Fares
Initially, I thought that most of these rides were a result of rare occurrences with the Upfront pricing algorithm. So I decided to test it out for myself. It turned out that on the first ride I took, I found a small discrepancy.
I have included four of the most obvious examples below. Feel free to contribute with your screenshots by e-mailing us or leaving a comment below.
Example 1: My "Test" Ride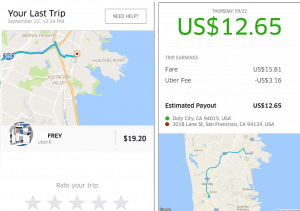 Frey was visibly upset about this.
Passenger (me) Paid: $19.20
Driver's payout: $12.65
You can see that I paid $19.20 for this ride and there was no surge or earnings boost attached to the fare. Frey drove me from Buffalo Wild Wings to my apartment in Bayview. And at the end of the ride, Uber kept $6.55 of the $19.20 that I paid while Frey only got $12.65.
The problem is that Uber should have charged the passenger less (or paid the driver more).  Adding the $1.55 booking fee (this is charged to the passenger but doesn't show up on the driver's payout) back to the gross fare of $15.81 results in a total $17.36 but the passenger (me) paid $19.20.  So what happened to that $1.86?  Uber kept it.
Driver's payout: $12.65
Uber's 20% commission: $3.16
Uber booking fee: $1.55 (not shown but found here)
Driver Received: $15.81 (Gross)
Passenger (me) Paid: $19.20
Uber kept $1.86 difference
$1.86 isn't a ton of money but it's not insignificant either and if you multiply that by the tens of millions of rides that Uber does a day, there are some pretty big stakes here.
Example 2: Evan in Los Angeles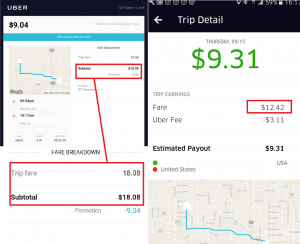 Uber charged Evan $18.08 but the driver only received $9.31
We received the images above from RSG reader Evan in Los Angeles. Evan requested a ride from an Uber driver who took him 9.91 miles in 23 minutes. Since Evan happened to know the driver, they compared fares at the end of the trip to find that the two amounts were way off. Evan paid $18.08 for this ride (actually $9.09 after his discount code) but his driver only received $9.31 after Uber's 25% commission.
Passenger Paid: $18.08
Driver Received: $12.42 (Gross)
Even with a $1.65 booking fee subtracted from the $18.08, the gross payout for this ride should have been $16.43 but the driver on this ride only received $12.42.  That means Uber made an extra $4 on this ride.
If we back calculate from the mileage and time, we can see that with current LA rates, the fare should have cost Evan $8.92 for mileage (9.91 miles at $0.90/mile) and $3.50 for time (23.3 minutes at $0.15/minute) or a total of $12.42.  Which was the exact same number as the gross driver payout of $12.42.  So it appears that on this ride, Uber was calculating the mileage and time payout correctly for the driver, but they overcharged the passenger by $4.
We helped Evan e-mail all of this information to Uber support but they replied with information about UberPool (not what we asked) and said that "Going forward, please be reminded that your fare will not be calculated based on distance and time instead, it will be computed dynamically based on your locations."  That's news to me but it still doesn't explain why the driver doesn't get that full dynamic fare.
Example 3: San Diego (Via Uber Man)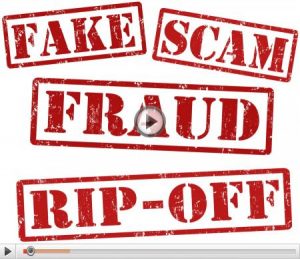 Passenger Paid: $52.66 Uber Man did a video earlier this week detailing an instance where the passenger paid a hefty premium in comparison to what the driver was paid. You should check it out, and also subscribe to his channel because he is a cool dude. The fare he analyzed was actually on surge pricing for the driver but apparently it was on an even higher surge for Uber.
Driver Received: $35.73 (Gross)
Example 4: "Biff" in Colorado Springs
RSG reader "B. Sinclair" (Name changed) gave a ride to a passenger in Denver only to find out that the passenger had paid $44.31 for his ride. The gross fare on Biff's side only reflected $18.68 ($15.13 after Uber's commission). Biff had this to say about how his passenger felt  "He was confused and dismayed. The night before he paid about $20 for the exact same ride, but was then quoted $42 on the return ride without any indication of a surge. My app at the time showed no surge pricing on the map or passenger profile on app once ride had begun."
Passenger Paid: $44.31
Driver Received: $18.68
Why Is This Happening?
From my experience as a driver and passenger, it seems that the algorithm for calculating the Upfront Fare assumes a sort of crappy route and a crappy driver in order to ensure the passenger pays enough for the ride. At the end of the day, Upfront Pricing is really just a betting machine with the job of making sure that all of the rides average out to a profit for Uber. The problem lies though when Uber pockets the difference from the miscalculations.
It seems like drivers are still receiving the amounts they should based off the time and distance but the passengers are being charged more.  And in some cases, a lot more.
Help Us Analyze "Upfront Pricing"
We would like to call on drivers to crowd source the gathering and comparison of prices under "Upfront Pricing" in order to gain a more data-driven understanding of how this works. As pricing becomes more opaque we think it is integral to track things for ourselves to make sure that drivers and passengers are receiving a fair fare. With enough data, we can begin to make inferences about what sort of rides to take or decline. Or when it may be worth it to call another service (like Lyft) as a passenger.
If you are curious about how this works and want to help us out, please e-mail us with your screenshots or leave a comment below.
Drivers! What do you think is going on with Uber's Upfront pricing model and have you noticed discrepancies in what your passenger pays and what you receive as a driver?
Every article I write is targeted at providing as much information for car owners and prospective car buyers.
Above anything else, Car Business is a company that provides automotive advice for car owners who don't have access to experts. Am I an expert? I've been in the car business for over 38 years, and while there are areas where I'll reach out to friends and acquaintances for advice, I've got a pretty good grasp of most aspects of the business. I've been called a lot of things in my time – Car Doctor, Car Professor or The Car Guy, but whenever someone wants some sensible advice, they call me.
I don't charge for advice, whether it's on the phone, via email or face to face. I'm happy to provide my expertise whenever I can. So if you want to chat to The Car Guru, get in touch.
I have access to good quality cars – you can see them on Cars Guide. Just click here [Cars Guide] to view our current stock of vehicles.
Other parts of my business that you may find the need to use from time to time are:
www.genuinespares.com.au. This is an online spare parts store for Chrysler, Jeep, Dodge, Alfa Romeo, Fiat, Volkswagen and Isuzu Ute. I've got thousands of mechanical and panel parts plus Mopar (Jeep, Chrysler, Dodge, Fiat, Alfa) T-Shirts, tyres, and alloy wheels as well. If you're looking for a hard to get replacement part for any of these brands, or you just want to get a better price than retail on any car brand, let me know. And you won't pay inflated replacement parts prices either. I've priced my stock at a discounted value to compete with the USA and Europe spare parts prices but with local delivery charges
We're local agents for Williams Paint and Interior Protection as well as AutoGard and CleanGard car products and SunX window tinting. The Same story applies. This is an area that car dealers want to make an amazing amount of profit – up to 100% in some cases. Don't get ripped off by the franchise car dealers – check us out for a local competitive price on car protection products, window tinting, and engine products.
I'm pleased to advise that in 2015 I was awarded the franchise for 1800Approved Finance. As a local finance company, we're able to provide a better level of service than the local car dealers as well as pretty competitive rates. SO before you sign on the dotted line, let us compare rates on finance and insurance for you – no obligation. If you're looking for finance for a new or used car, or any other worthwhile purpose, our company can assist – even if you've had some troubling financial issues.
BLOG – I write a new Blog for my website a couple of times a week. If you'd like to read some of the stories I've written just click here.
If you ever need that advice, reach out. My contact information is:
Phone:                   0418 748 498
Email:                    [email protected]
Visit:                      226 Anzac Avenue Kippa-Ring Queensland (by appointment only)
Mail:                      PO Box 195 Clontarf Q 4019
Warm regards and remember to drive carefully
Bob Aldons
#carbusiness #thecarguy #bobaldons #newcars #racq #nrma #racv  #bestcarprice #discountnewcars #carbroker #carbuyersadvocate