Hi. Bob Aldons from Car Business on the Job about the recently announced Skoda Octavia RS 230. This limited edition manual only car is in their own words "about rewarding Skoda enthusiasts". Only 70 examples of the RS 230 are available presently, but Skoda M/D Michael Irmer is looking at more product if the first lot go as well as he thinks.
Skoda is owned by the Volkswagen Group but has kept under the radar with VW's "dieselgate" issue. The RS 230 compares to Volkswagen's own Golf GTI in performance terms, but receives unique interior and exterior treatment befitting a limited edition.
Follows the Skoda's press release about the new RS 230 released today, November 10th 2016
Most potent production Octavia
Limited edition manual only
169kW and a limited slip differential
 Sydney, 10 November 2016 – ŠKODA Australia brings its Octavia RS range to full throttle with the RS 230.
The most powerful production Octavia to date, the RS 230 embellishes the already highly-praised Octavia RS with a stronger engine, unique styling, and the latest comfort and technology offerings from ŠKODA.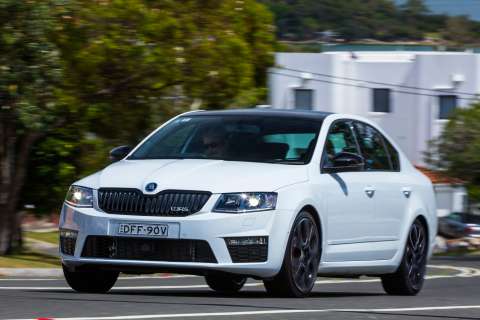 The RS is ŠKODA Australia's best-selling Octavia, comprising 40 per cent of all Octavia sales. Recent comparison tests have seen the wagon variant smash its immediate competitor four sets to nil.
ŠKODA Australia Managing Director Michael Irmer said that this limited edition had been obtained with a view to rewarding enthusiasts.
"The RS 230 has more power, a stronger spread of torque and – of course – a slick six-speed manual," Mr Irmer said. "We have obtained 70 in both sedan and wagon form so far, but are looking to secure more.
"Consider this also a preview of future editions of the Octavia RS."
The RS 230 – so designated for its horsepower – packs a 169kW 2.0-litre turbocharged petrol four-cylinder engine, enabling a 0-100km/h time of 6.7 seconds.
This power is underlined by advanced driver controls: The RS 230 is the first ŠKODA to be fitted with electronically controlled front axle inter-wheel lock (VAQ). VAQ allows the driver to direct 100 per cent of the power to one front wheel, providing the vehicle with more traction and grip to exit a corner. This in combination with electromechanical, progressive power steering produces an effortlessly agile ride.
Drivers can also customise their vehicle's handling characteristics at the push of a button with standard Driving Mode Selection in the RS 230. The four driving modes (Normal, Sport, Eco and Individual) each optimise features to their corresponding driving styles
The RS 230's styling speaks to its ferocity on the road. Glossy black design elements give the vehicle a fierce and striking look, including the 19" Xtreme alloy wheels, rear spoiler, door mirrors, front grille and exhaust tailpipe. The black exhaust tailpipe and the rear spoiler are exclusive to the Octavia RS 230, as is a lap timer function in the car's colour multifunction display. The interiors match the car's sporty exteriors: the RS 230 features black leather-appointed sports seats with red stitching, a 3-spoke multifunctional steering wheel encased in perforated leather with red stitching and a bespoke RS plaque, RS inscriptions in the door sill strips, and stainless steel foot pedals with rubber inserts to prevent slipping when performing complex driving manoeuvres. The RS 230's distinctive design elements set it apart as a truly special limited edition model for the fans.
Yet, the RS 230 does not sacrifice comfort and practicality in the pursuit of performance. Its sport seats are electrically adjustable with memory function, which allows drivers to store their favoured seating positions in their car's memory and return to those positions at the press of a button. The seats are also specially designed with great lateral support to maximise the ergonomic comfort of the occupant. The RS 230 also comes standard with Adaptive Cruise Control, Dual-Zone Climatronic Air Conditioning and an 8" touchscreen Columbus infotainment unit with satellite navigation and Smartlink (Apple CarPlay & Android Auto) connectivity.
In addition, an optional Tech Pack offers drivers the opportunity to furbish their RS 230s with advanced driver assistance systems: Automatic Parking Assist, Lane Assist and keyless entry and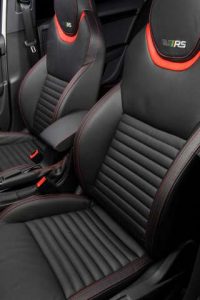 start. The Tech Pack will also delight music lovers with the Premium German Canton sound system, which features 10 loudspeakers and a digital equaliser. Priced at an all-inclusive $1,700 (RRP), the Tech Pack saves 40 per cent in the total value of its individual components and represents a strong value equation.
ŠKODA Australia is offering the highly exclusive limited-edition Octavia RS 230 manual as a sedan from $41,490 (RRP) and as a wagon from $43,190 (RRP). With these two variants available to fit all lifestyles, plus bespoke styling, upgraded tech and a powerful 169kw engine, the Octavia RS 230 is a car designed to delight any motoring enthusiast.
Customers can rest assured with their investment in a ŠKODA vehicle. ŠKODA Australia offers options of three- or five-year Care Packs, Service Packs, extended factory warranty and ŠKODA Choice, which guarantees the future value of your vehicle. Almost half of ŠKODA finance buyers year-to-date have opted for ŠKODA Choice – a testament to the value, security and peace of mind offered by the program.
ŠKODA AUTO
is one of the longest-established vehicle production companies in the world. Since 1895, the Czech headquarters in Mladá Boleslav has seen the production firstly of bicycles and then, shortly afterwards motorbikes and cars.
currently has seven passenger car models: Citigo, Fabia, Kodiaq, Rapid, Octavia, Yeti and Superb.
has belonged to Volkswagen since 1991. The VW Group is one of the most successful automotive groups in the world. ŠKODA, in association with the Group, independently manufactures and develops vehicles, as well as components, engines and gear transmissions.
operates at three locations in the Czech Republic, produces in China, Russia, Slovakia and India mai
Car Business Saves You Money 
Car Business is a multi-dimensional automotive company that aims to help you to buy your new car for a better price than you can do on your own. Based on the Redcliffe Peninsula about 15 minutes from Brisbane Airport and 30 minutes from the Brisbane CBD, Car Business is located in an area that allows us to pick and choose from Brisbane's finest new cars for sale.
The 'go to' Brisbane car buying agents, Car Business, is so much better than a car broker – first and foremost, Car Business is an experienced Car Buyer's Advocacy service. Our experienced staff will stand alongside you, and act on your behalf to help you buy your new car at a better price than you can directly through new car dealers.
My goal with Car Business is to provide timely and informative articles on everything to do with cars – used car purchase, new car sales, car service, car finance, car insurance, aftermarket car protection products – everything .
Above anything else, Car Business is a company that provides current automotive advice for car owners who don't have access to knowledgeable car industry friends. To those of you without someone to talk to, I'm your expert – the car guy.
I've been in the car industry since 1978 – covering all aspects that consumers need advice on. I've been called a lot of things in my time – The Car Professor, The Car Doctor, and recently the Car Guy, but the bottom line is that I know a lot about this industry. Whenever someone needs some advice – they call me.
In general terms my car advice is free – it's just something I like to do and my goal is to give back to the community that has treated me so well.
I have access to good quality cars – you can see my current stock by clicking through to Cars Guide. I'm also to search out that particular car that you're finding difficult to find. I've got a great dealer community that I've dealt with for many years and these cars don't even hit the web sites.
Other areas that I specialize are fairly wide spread.
Genuine Spare Parts and Other Cool Stuff
www.genuinespares.com.au is an online spare parts business specialising in Chrysler, Jeep, Dodge, Fiat, Alfa Romeo, Isuzu Ute and Volkswagen. SO if you're looking for anything from crash parts, electrical components, wheels, t-shirts or anything else, let me assist you with that search.  You can rely on genuine spares to procure parts at better than trade price and certainly better than you can buy in Australia. My prices are reduced by about 30% on what you'd expect to pay here in Australia
Car Protection Products 
Car Business is a local agent for Williams Paint and Interior Protection,  AutoGard and CleanGard, SunX window tinting.
Don't get ripped off by car dealers wanting to make a huge profit – our window tinting prices start from $175 up to $450 for cars that dealers want to charge $750 for.
My finance and insurance franchise, 1800Approved Finance, will help you get finance for your car at rates much lower than a dealer will offer. For a home owner, we're talking from 4.99%. Your bank won't even offer you that .
If you're interested in reading quality information about new car releases, forthcoming models and just about anything else to do with the car business, click over to my blog – https://carbusiness.com.au/wpcbadmn//blog/
You'll find varied and wide ranging comment about the car industry and car people. I don't hold back on my comments – like it or not, my opinions are just that – opinions.
In closing, if you want to connect with me here's how
Phone:         International          +61 418 748 498
Local                          0418 748 498
Email:                                              [email protected]
Visit:                                                 226 Anzac Avenue
Kippa-Ring Q 4021
Mail:                                                 PO Box 195
Clontarf Q 4019
In closing, my passion is cars, car buyers, car dealers, but just about anything to do with cars. But you need to do me 1 favour….
Please drive carefully
Warm regards
Bob Aldons
#carbusiness #thecarguy #bobaldons #carbrokers #carbuyersadvocate #discountnewcars #carbuyingservice #bestcarprice #racq #nrma #racv #caradvice #mistakesthatcarbuyersmake