Hello, Bob Aldons from Car Business with my opinion on the new Volkswagen Tiguan. Not too long ago, I could pretty much drive any new car that I wanted. It at least any of the brands that my dealerships sold – Volkswagen, jeep, Chrysler, ALFA Romeo, fiat, Isuzu, and dodge and sometimes, if time permitted any of the brands that my friends and colleagues had in their stables. Nowadays whilst I'd like to be an automotive journalist it's been quite difficult to date to crack that carbon fibre ceiling. Car journos are a pretty tight club.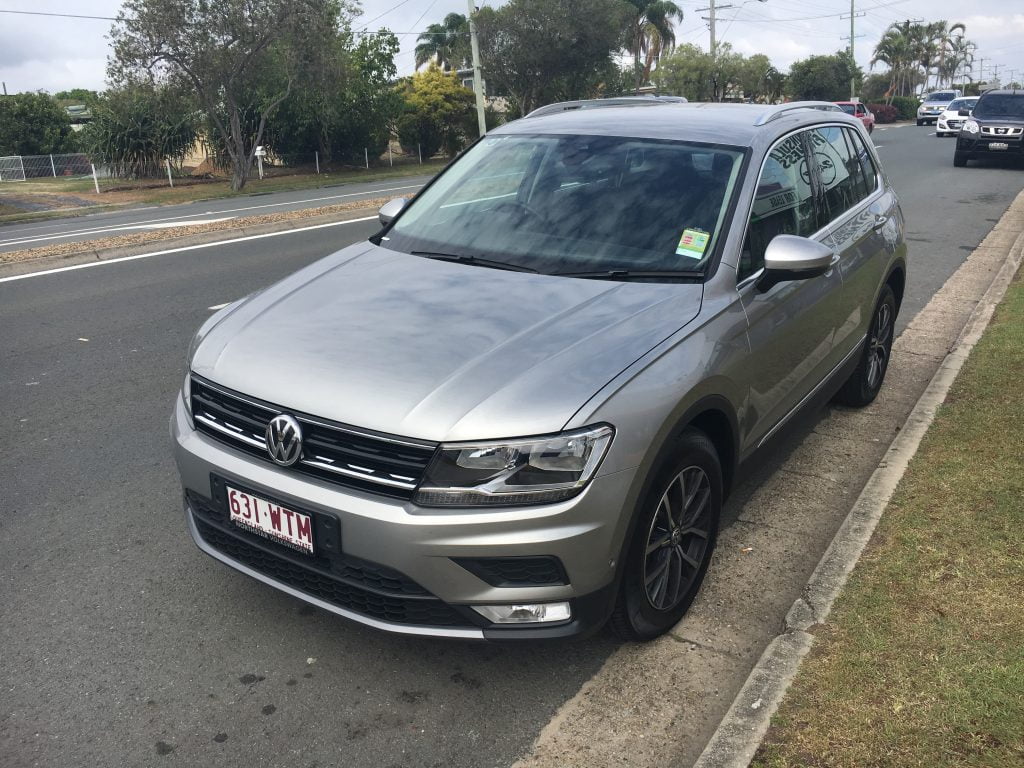 So when an industry colleague pulled up outside my office in a new Tiguan, he wasn't dropping it off to me but "hey Clive" toss me the keys was better than the alternative of no car at all.  Now I'm not talking about a day behind the wheel, a lap or 3 around Phillip Island, or hoofing it up the eastern beach of Moreton island. No no. With about an hour (whilst Clive went to the gym) to do what I needed to do, it was jump in and "drive it like you stole it"
So the new Volkswagen Tiguan.  It's a bit like pulling on a pair of really comfortable shoes.  It's very familiar to the models I had to sell and the first impression is that it's a little bigger, but only perhaps longer.
Inside, it's typical Volkswagen – darkish interior, with charcoal trim, chrome look highlights, easy to read instrument cluster and that all too familiar new car smell that Volkswagens have.
On the road, its smooth – very tightly built, no noisy trims or rattles, but just that quality Volkswagen build. If nothing else and amidst the well-publicized dramas, Volkswagen still build great cars. The new 110kw engine, whilst lower in output than its predecessor at 118kw, loses nothing in comparison.
The 7 speed DSG transmission works typically well – no sign of gear slipping, just a smooth transition from gear to gear. There's nothing to dislike with this engine-transmission combination.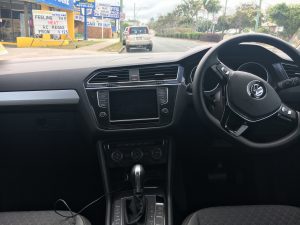 Where the new Tiguan does get my tick is in the cargo area. Previous models of the Tiguan were challenged capacity wise. Whilst they'll both take 5 occupants in comfort the old model could arguably just take a 'family day out' but that's about all. Now you can take all the family gear, plus the family pet and a beach tent, and a lot more besides.The instrument cluster shows the tell-tale orange lines of lane departure, and on the road, I was SURPRISED to read on the cluster that the engine was running on 2 CYLINDERS even though I was driving in a local road environment.  Good news for the fuel economy conscious. I didn't notice whether the Tiguan still had the stop-start system, but post drive research indicated that it still did.
My only concern from a Volkswagen viewpoint is that the price band is high. There's a lot of competition in this segment and a lot of automatics in this size under $30,000. And they're all great value for money. Advertised this weekend are Hyundai Tucson at $28,880 drive away, Renault Koleos $29990 and a Mitsubishi Outlander 7 seater at $29,990.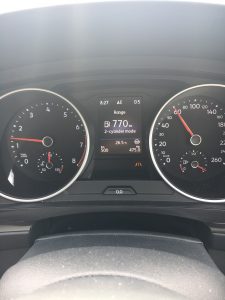 So which demographic are VW aiming for? Their television advertising suggests younger families, probably 36 to 50 with a child or perhaps 2.4 children and a dog. VW advertising is slick and points to the buying demographic well. The opposition tend to aim at the same familiar demographic but those that want to get out of the city and into the great outdoors. Who's more successful will be told in time.
VW is competing with some pretty strong warranty offerings in the segment. Mitsubishi and Hyundai with 5 years, whilst Kia are the industry's strongest package with a 7 year warranty, road side assistance and capped price service as well. I hope that Volkswagen does well with Tiguan. It's a tight package, well-published fuel economy figures, low environmental issues and a car that will service a family's needs very well for years to come. As an aside, I've got a 2013 Tiguan in my driveway.  I know from experience that VW Tiguan's age well. Mine is still tight and reliable even after 90,000 kilometres
Good on you Volkswagen – keep these nice cars coming
Car supplied courtesy of Clive Cadman of Northstar Volkswagen, Kippa-Ring. Ph. 34808600
What's Car Business all about?
Car Business is a multi-dimensional automotive company that aims to help you to buy your new car for a better price than you can do on your own. Based on the Redcliffe Peninsula about 15 minutes from Brisbane Airport and 30 minutes from the Brisbane CBD, Car Business is located in an area that allows us to pick and choose from Brisbane's finest new cars for sale.
The 'go to' Brisbane car buying agents, Car Business, is so much better than a car broker – first and foremost, Car Business is an experienced Car Buyer's Advocacy service. Our experienced staff will stand alongside you and act on your behalf to help you buy your new car at a better price than you can directly through new car dealers.
My goal with Car Business is to provide timely and informative articles on everything to do with cars – used car purchase, new car sales, car service, car finance, car insurance, aftermarket car protection products – everything .
Above anything else, Car Business is a company that provides current automotive advice for car owners who don't have access to knowledgeable car industry friends. To those of you without someone to talk to, I'm your expert – the car guy.
I've been in the car industry since 1978 – covering all aspects that consumers need advice on. I've been called a lot of things in my time – The Car Professor, The Car Doctor, and recently the Car Guy, but the bottom line is that I know a lot about this industry. Whenever someone needs some advice – they call me.
In general terms my car advice is free – it's just something I like to do and my goal is to give back to the community that has treated me so well.
Good quality, Guaranteed Used Cars
I have access to good quality cars – you can see my current stock by clicking through to Cars Guide. I'm also able to search out that particular car that you're finding difficult to find. I've got a great dealer community that I've dealt with for many years and these cars don't even hit the websites. I specialise in South East Queensland but in some cases, can look after interstate customers
Other areas that I specialise in are fairly widespread.
Genuine Spare Parts, Merchandise and Other Cool Stuff
My website, www.genuinespares.com.au is an online spare parts business specialising in Chrysler, Jeep, Dodge, Fiat, Alfa Romeo, Isuzu Ute and Volkswagen. SO if you're looking for anything from crash parts, electrical components, wheels, t-shirts or anything else, let me assist you with that search.  You can rely on genuine spares to procure parts at better than trade price and certainly better than you can buy in Australia. My prices are reduced by about 30% on what you'd expect to pay here in Australia
Car Business Protects Your Car
Car Business is a local agent for Williams Paint and Interior Protection,  AutoGard and CleanGard, SunX window tinting.
Don't get ripped off by car dealers wanting to make a huge profit – our window tinting prices start from $175 up to $450 for cars that dealers want to charge $750 for.
Car Finance and Car Insurance
My finance and insurance franchise, 1800Approved Finance, will help you get finance for your car at rates much lower than a dealer will offer. For a home owner, we're talking from 4.99%. Your bank won't even offer you that .
It's My Opinion – Cars, Auto Industry
If you're interested in reading quality information about new car releases, forthcoming models and just about anything else to do with the car business, click over to my blog – https://carbusiness.com.au/wpcbadmn//blog/
You'll find varied and wide ranging comment about the car industry and car people. I don't hold back on my comments – like it or not, my opinions are just that – opinions.
In closing, if you want to connect with me here's how
Car Business and Bob Aldons Contact Info
Phone:          International           +61 418 748 498
Local                          0418 748 498
Email:                                                [email protected]
Visit:                                                  226 Anzac Avenue
Kippa-Ring Q 4021
Mail:                                                  PO Box 195
Clontarf Q 4019
In closing, my passion is cars, car buyers, car dealers, but just about anything to do with cars. But you need to do me 1 favour….
Please drive carefully
Warm regards
Bob Aldons
#carbusiness #thecarguy #bobaldons #carbrokers #carbuyersadvocate #discountnewcars #carbuyingservice #bestcarprice #racq #nrma #racv #caradvice #mistakesthatcarbuyersmake