There's no argument that Mercedes X-Class is late to the SUV Utility market. Toyota, at last in Australia, is the undisputed king of that segment and others, Ford Ranger, Mazda BT-50, Nissan Navarra, Isuzu D-Max, Mitsubishi Triton and others have a materially giant head-start. Car Business presents recent information about the luxury SUV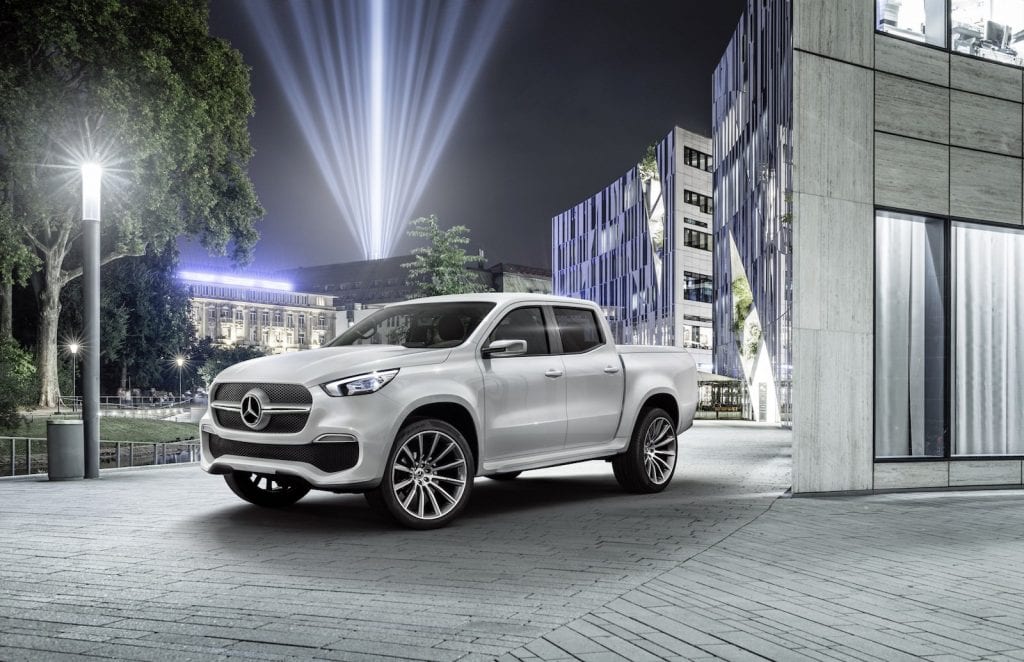 So why now? Whilst M/B maybe the early adopter with technology, the introduction of 'ordinary' models, those that are lower down the food chain, only come about when the planners look for opportunities to partner their luxury vehicles to the people that continue to purchase other brands. Arguably a high percentage of their customers will invest in a Mercedes SUV because, well, it has the 3 point star on the bonnet and the relationship they have with their dealer will provide a good outcome.
And although it's to be based on a Nissan Navarra, as Nissan are doing with sister company Renault, there's no argument that the price and fit out will be more in keeping with the Benz mantra of luxury.
Thanks to our US colleagues at www.autoguide.com for this story and the picture.
To show off its new truck in multiple variants, Mercedes rolled out the X-Class Powerful Adventurer and the X-Class Stylish Explorer, demonstrating both off-road and luxurious examples of the new truck concept.
Mercedes plans to launch the X-Class in Argentina, Brazil, South Africa, Australia, New Zealand, and Europe by late 2017. The decision to bring the truck to the U.S. is said to still be up in the air.
Mercedes says the the top-of-the-line model trucks will be powered by a V6 diesel, combined with 4Matic all-wheel drive, a transfer case with low gears and two differential locks. Mercedes says the X-Class will be rated to tow around 7000 pounds and haul 2,200 pounds of payload.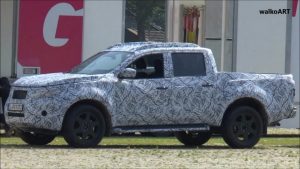 The rear end of the truck will use a five-link rear axle with coil springs, like the Ram 1500, to provide a nicer on-road ride than traditional leaf springs.
All of the latest technology will also be available in the X-Class, including the suite of Mercedes me connect services, which allow drivers to use their device to control their truck. For example, you can send navigation destinations to a parked vehicle or find out how much fuel it has left.
The face of the truck concept carries a familiar face, taking what it is seen on Mercedes's SUVs and crossover and beefing it up a bit. For the Stylish Explorer, Mercedes has packed the interior with nubuck leather, white nappa weather and open-pore smoked oak, in other words, all of the niceties you would expect in a modern Mercedes-Benz.
In the Adventurer, Mercedes chose materials that would be easier to clean and that will hold the occupants in their seats even while they're bouncing over off-road terrain. It also packs a taller ride height, big off-road tires and plastic cladding.
The X-Class will be based on the Nissan Navara, though it appears that the styling will have nothing in common with Nissan's small truck.
Car Business is a multi-dimensional automotive company that aims to help you to buy your new car for a better price than you can do on your own. Based on the Redcliffe Peninsula about 15 minutes from Brisbane Airport and 30 minutes from the Brisbane CBD, Car Business is located in an area that allows us to pick and choose from Brisbane's finest new cars for sale.
The 'go to' Brisbane car buying agents, Car Business, is so much better than a car broker – first and foremost, Car Business is an experienced Car Buyer's Advocacy service. Our experienced staff will stand alongside you, and act on your behalf to help you buy your new car at a better price than you can directly through new car dealers.
Every article I write is targeted at providing as much information for car owners and prospective car buyers.
Above anything else, Car Business is a company that provides automotive advice for car owners who don't have access to experts. Am I an expert? I've been in the car business for over 38 years, and while there are areas where I'll reach out to friends and acquaintances for advice, I've got a pretty good grasp of most aspects of the business. I've been called a lot of things in my time – Car Doctor, Car Professor or The Car Guy, but whenever someone wants some sensible advice, they call me.
I don't charge for advice, whether it's on the phone, via email or face to face. I'm happy to provide my expertise whenever I can. So if you want to chat to The Car Guru, get in touch.
I have access to good quality cars – you can see them on Cars Guide. Just click here [Cars Guide] to view our current stock of vehicles.
Other parts of my business that you may find the need to use from time to time are:
www.genuinespares.com.au. This is an online spare parts store for Chrysler, Jeep, Dodge, Alfa Romeo, Fiat, Volkswagen and Isuzu Ute. I've got thousands of mechanical and panel parts plus Mopar (Jeep, Chrysler, Dodge, Fiat, Alfa) T-Shirts, tyres, and alloy wheels as well. If you're looking for a hard to get replacement part for any of these brands, or you just want to get a better price than retail on any car brand, let me know. And you won't pay inflated replacement parts prices either. I've priced my stock at a discounted value to compete with the USA and Europe spare parts prices but with local delivery charges
We're local agents for Williams Paint and Interior Protection as well as AutoGard and CleanGard car products and SunX window tinting. The Same story applies. This is an area that car dealers want to make an amazing amount of profit – up to 100% in some cases. Don't get ripped off by the franchise car dealers – check us out for a local competitive price on car protection products, window tinting, and engine products.
I'm pleased to advise that in 2015 I was awarded the franchise for 1800Approved Finance. As a local finance company, we're able to provide a better level of service than the local car dealers as well as pretty competitive rates. SO before you sign on the dotted line, let us compare rates on finance and insurance for you – no obligation. If you're looking for finance for a new or used car, or any other worthwhile purpose, our company can assist – even if you've had some troubling financial issues.
BLOG – I write a new Blog for my website a couple of times a week. If you'd like to read some of the stories I've written just click here.
If you ever need that advice, reach out. My contact information is:
Phone:                   0418 748 498
Email:                    [email protected]
Visit:                      226 Anzac Avenue Kippa-Ring Queensland (by appointment only)
Mail:                      PO Box 195 Clontarf Q 4019
Warm regards and remember to drive carefully
Bob Aldons
#carbusiness #thecarguy #bobaldons #newcars #racq #nrma #racv  #bestcarprice #discountnewcars #carbroker #carbuyersadvocate