Hello and good morning. Bob Aldons from Car Business with today's comment about aspects of the motor industry that I hope you'll find readable. And Hyundai Motor is my current favourite manufacturer with what they're doing with Hydrogen. I'm not a fan of electric cars nor hybrids. I'm comfortable with my opinion that both of these are substitutes for the next generation of engines or systems that will not only power vehicles well into the future but will be seen as a generational change from petrol based fuels. This  ix35 Fuel Cell taxi fleet is the way forward
Electricity, you see, isn't generated by solar energy (at least not yet) but by coal. Petrol is a polluting energy that has a shelf life – some say that we've reached Peak Oil, but I think it will be the option for 3rd world countries for decades to come.
Hydrogen, on the other hand, is different. Hydrogen Fuel cell vehicles, or at least in this Hyundai trial in Paris, will remove 800 tonnes of CO2 per year in exhaust emissions, from the atmosphere. That's a highly commendable initiative. So kudos' to Hyundai and any other company venturing down this path.
Follows a press release directly from Hyundai about this clean green way forward 
Hyundai Motor and the Paris-based electric taxi start-up STEP sign a memorandum of understanding about the handover of 60 additional ix35 Fuel Cell SUVs
The new ix35 Fuel Cell SUVs are replacing fossil fuel powered taxis to reduce emissions
Hyundai ix35 Fuel Cell is the world's first mass-produced and commercially available fuel cell electric vehicle and can drive up to 594 kilometres on a full tank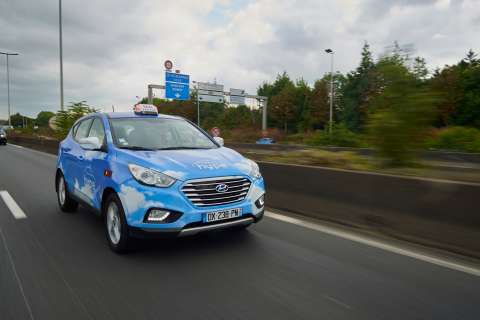 10th November 2016 – Hyundai Motor will hand over 60 ix35 Fuel Cell SUVs to the Paris-based electric taxi start-up STEP (Société du Taxi Electrique Parisien). Today a memorandum of understanding was signed at the opening of a public hydrogen fuel station operated by Air Liquide at Hyundai Motor's European headquarters in Offenbach, Germany. The world's largest fuel cell taxi fleet "hype" (Hydrogen Powered Electric) currently serves the Greater Paris Area with five ix35 Fuel Cell SUVs that Hyundai Motor delivered in December 2015. The fleet is planned to increase up to several hundred vehicles within five years.
"With the memorandum of today, STEP and Hyundai Motor have committed to bring 60 additional ix35 Fuel Cell taxis to the streets of Paris," says Thomas A. Schmid, Chief Operating Officer at Hyundai Motor Europe. "Not only will the fuel cell taxis provide a clean transportation solution for the city, they are also a practical, comfortable and reliable choice for drivers and passengers."
Saving more than 800 tonnes of emissions
The 60 new ix35 Fuel Cell vehicles will not add to the 17,000 taxis already in circulation in and around Paris. They are replacing petrol and diesel-powered cars. Compared to a diesel-powered taxi with CO2 emissions of 135 gramme per kilometre and an annual mileage of 100,000 kilometres, the ix35 Fuel Cell vehicles will save more than 800 tonnes of CO2 per year in exhaust emissions. That is the equivalent of one person taking the plane and flying more than 200 times from Frankfurt to New York and back. In contrast to this, the only emissions from the tailpipe of the ix35 Fuel Cell during driving are water vapour. Even when it is produced from natural gas, hydrogen is a far cleaner energy than any fossil fuel: for equal distance travelled, hydrogen cars reduce greenhouse gas emissions by 20% compared with internal combustion vehicles and do not produce any fine particles.
Up to 594 kilometres on a single tank of hydrogen
ix35 Fuel Cell is the world's first mass-produced and commercially available fuel cell electric vehicle (FCEV). Currently, there are more than 300 Hyundai ix35 Fuel Cell SUVs on European roads in 12 countries. That is more than all the FCEVs of other manufacturers combined. Its powerful asynchronous electric motor generates 100kW, and with a maximum torque of 300Nm, it delivers a fun-to-drive experience. Thanks to its efficiency, the ix35 Fuel Cell's range is up to 594 kilometres on a full tank.
Hydrogen Mobility Europe 
ix35 Fuel Cell vehicles deployed are partially funded by the Hydrogen Mobility Europe Project. Hydrogen Mobility Europe is funded by the Fuel Cells and Hydrogen Joint Undertaking (FCH JU), a public-private partnership supporting research, technological development and demonstration activities in fuel cell and hydrogen energy technologies in Europe.
What's Car Business all about?
Car Business is a multi-dimensional automotive company that aims to help you to buy your new car for a better price than you can do on your own. Based on the Redcliffe Peninsula about 15 minutes from Brisbane Airport and 30 minutes from the Brisbane CBD, Car Business is located in an area that allows us to pick and choose from Brisbane's finest new cars for sale.
The 'go to' Brisbane car buying agents, Car Business, is so much better than a car broker – first and foremost, Car Business is an experienced Car Buyer's Advocacy service. Our experienced staff will stand alongside you, and act on your behalf to help you buy your new car at a better price than you can directly through new car dealers.
My goal with Car Business is to provide timely and informative articles on everything to do with cars – used car purchase, new car sales, car service, car finance, car insurance, aftermarket car protection products – everything .
Above anything else, Car Business is a company that provides current automotive advice for car owners who don't have access to knowledgeable car industry friends. To those of you without someone to talk to, I'm your expert – the car guy.
I've been in the car industry since 1978 – covering all aspects that consumers need advice on. I've been called a lot of things in my time – The Car Professor, The Car Doctor, and recently the Car Guy, but the bottom line is that I know a lot about this industry. Whenever someone needs some advice – they call me.
In general terms my car advice is free – it's just something I like to do and my goal is to give back to the community that has treated me so well.
Good quality, Guaranteed Used Cars
I have access to good quality cars – you can see my current stock by clicking through to Cars Guide. I'm also able to search out that particular car that you're finding difficult to find. I've got a great dealer community that I've dealt with for many years and these cars don't even hit the websites. I specialise in South East Queensland but in some cases, can look after interstate customers
Other areas that I specialise in are fairly widespread.
Genuine Spare Parts, Merchandise and Other Cool Stuff
www.genuinespares.com.au is an online spare parts business specialising in Chrysler, Jeep, Dodge, Fiat, Alfa Romeo, Isuzu Ute and Volkswagen. SO if you're looking for anything from crash parts, electrical components, wheels, t-shirts or anything else, let me assist you with that search.  You can rely on genuine spares to procure parts at better than trade price and certainly better than you can buy in Australia. My prices are reduced by about 30% on what you'd expect to pay here in Australia
Car Business Protects Your Car
Car Business is a local agent for Williams Paint and Interior Protection,  AutoGard and CleanGard, SunX window tinting.
Don't get ripped off by car dealers wanting to make a huge profit – our window tinting prices start from $175 up to $450 for cars that dealers want to charge $750 for.
Car Finance and Car Insurance
My finance and insurance franchise, 1800Approved Finance, will help you get finance for your car at rates much lower than a dealer will offer. For a home owner, we're talking from 4.99%. Your bank won't even offer you that .
It's My Opinion – Cars, Auto Industry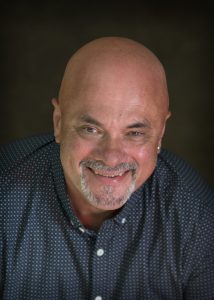 If you're interested in reading quality information about new car releases, forthcoming models and just about anything else to do with the car business, click over to my blog – https://carbusiness.com.au/wpcbadmn//blog/
You'll find varied and wide ranging comment about the car industry and car people. I don't hold back on my comments – like it or not, my opinions are just that – opinions.
In closing, if you want to connect with me here's how
Car Business and Bob Aldons Contact Info
Phone:          International           +61 418 748 498
Local                          0418 748 498
Email:                                                [email protected]
Visit:                                                  226 Anzac Avenue
Kippa-Ring Q 4021
Mail:                                                  PO Box 195
Clontarf Q 4019
In closing, my passion is cars, car buyers, car dealers, but just about anything to do with cars. But you need to do me 1 favour….
Please drive carefully
Warm regards
Bob Aldons
#carbusiness #thecarguy #bobaldons #carbrokers #carbuyersadvocate #discountnewcars #carbuyingservice #bestcarprice #racq #nrma #racv #caradvice #mistakesthatcarbuyersmake