Hi. Bob Aldons from Car Business again, with advice on cars and everything automotive. So, it's that time – your car needs a service. Where are you going? Car Service is another expense that consumers struggle with
Car Business is a multi-dimensional automotive company that aims to help you to buy your new car for a better price than you can do on your own. Based on the Redcliffe Peninsula about 15 minutes from Brisbane Airport and 30 minutes from the Brisbane CBD, Car Business is located in an area that allows us to pick and choose from Brisbane's finest new cars for sale. We also work with our customers on car service.
The 'go to' Brisbane car buying agents, Car Business, is so much better than a car broker – first and foremost, Car Business is an experienced Car Buyer's Advocacy service. Our experienced staff will stand alongside you, and act on your behalf to help you buy your new car at a better price than you can directly through new car dealers.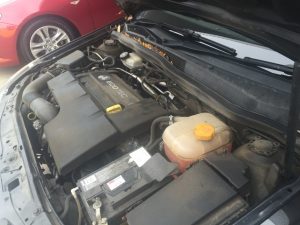 When a consumer buys a new car, or even a used car, one of the decisions that typically they don't make at the time is where they're going to have it serviced. Perhaps the salesperson has introduced you to the service team, perhaps not. Perhaps you've had your previous car serviced at Ultra Tune, K-Mart or a local mechanical workshop. They've always said that they can do log book services as well as the brand franchise at a lot lower price.
So should you have your services done at an independent service centre or the franchise dealer? And what's this all about minor service, intermediate service and major service?
And you thought buying the car was stressful and confusing.
If you consult your cars' service handbook, you're generally only presented with a confusing scripture that manufacturers feel that they have to provide. Obviously, none of them has heard of simple English explanations. On the manufacturer website, however, and provided you can fathom your way to their service section, things start to look a lot easy.
I visited the Isuzu Ute website recently, and it was a pleasure to work with it. Not complicated and easy to find price guide. And while an Isuzu D-Max or MU-X has services due every 10,000klm or 6 months, the prices for these services are relatively inexpensive, at least for most of them.
Example:
2015 Isuzu D-Max
10,000klm service    $260   20,000klm service    $360   30,000klm service    $260
40,000klm service    $760   50,000klm, service   $155   60,000klm service    $480
So to me, this looks pretty inexpensive and I for one would continue to have my D-Max serviced at the franchise dealer at least for the warranty period. And whilst the aftermarket and independent centres will always tell you that they do the same job, I question whether they're using the approved filters, oils, and parts. If you want to have peace of mind as to the manufacturer covering the full term of the warranty, then I'd be insisting that they do.
So using this example, let's look at the different services and costs. No doubt that at $260 or $360 the services at this price are intermediate. The $155 service is just an oil and filter change, so we can designate this as minor. The two others, at $480 and $760 are major services. If you want to analyse this, the average cost per year of services on this Isuzu is $758 per year. If you're using it for business use, that's $$689 per annum. And that's pretty reasonable. If you visit an independent then expect to save about 20% of this cost so about $150 per year.
Out of Warranty Goodwill
Now one very important point that most consumers forget and any independent won't tell you. Most manufacturers will give consideration to a goodwill payment if something goes wrong out of warranty. Whilst the major brands still only have a 3-year warranty (poor form that) many of the others have 5 years or in Kia's case 7 years.
If you've been servicing your vehicle with the franchise dealer and something serious happens, there's every chance that the manufacturer will pick up the tab. It happens and I know it happens. I've owned and run enough dealerships to tell you that they will. I also know that if you bought a new car, had it serviced by an independent and had an out of warranty claim the manufacturer isn't likely to pick up the cost at all. They will find a way to deny it, even though other owners have had the cost taken care of.
If you want to risk that situation for the sake of $3 per week, then spin the wheel and take the risk into your own hands – but I reckon that would be pretty stupid wouldn't it?The important thing that dictates whether a new car owner returns to the franchise dealer is the cost of service or the perceived cost.Frankly, if you can afford the cost of a new vehicle, then you really should be budgeting for the service costs. Don't think for a minute that the independent is doing you any favours. The difference between their cost and the franchise dealer is the investment in buildings, training, technical tools and particularly brand diagnostic computers.
So what are the different types of services?
There are 3 main service types you can have done on your car. Again using the Isuzu example, as I said earlier, undoubtedly the cheapest of these is an oil change and check over. You'll see plenty of specials for around the $149 mark. So there's really no difference between an independent and a franchise dealer there. Oil is oil but franchise dealers just charge more than the independents. But make sure the independent is using the correct oil for your car. Check your owner manual. If a manufacturer specifies a certain grade, make sure that the independent uses that grade of oil. Brand doesn't matter. But it's another way that an independent can charge less.
In a minor service, the underbody, suspension and exhaust system should be inspected as well as the serviceability of tyres and brakes. No big deal here. Just the basics.
A franchise dealer should and will hook your car up to their diagnostic computer to check whether the software for your car is up to date. Unfortunately, this is something that an independent can't do.
What's an interim service?
Just as the name suggests, an interim service is one that would be performed between log book services, usually if the car is being used in adverse or limited conditions.
If it's a 4WD, and it's being used constantly in dusty or muddy conditions, towing a heavy caravan or boat, it's ideal to have the oil and filter changed more often. It's also usual for the mechanic to check the suspension, tyres, exhaust and other underbody areas. As far as cost is concerned, it should be about the same as a minor service with the exception of differential and transmission fluids if required.
If you're driving a Toyota, Isuzu Ute or any other brand vehicle with a 6-month service plan, this is the intermediate service. This term is one we see much less frequently in recent times, mostly being used when performing an engine oil and engine oil filter change in between what the vehicle manufacturer set out as their normal service intervals.
This interim service may not have included any additional mechanical checks at all unless a specific item required attention because of the operating environment.
What's a major service?
If you go back and compare the Isuzu D-Max service I'm sure that you'll have noticed the 'big gorilla' at $760. This is a major service. All fluids, – oil, diff, transmission are replaced and the cost of the fluids in these are pretty high. The mechanic is also checking every moving part for wear and tear. Brakes are carefully checked, including disc brake rotors and replace at extra cost if required. It just takes time – up to 4 hours for one of these. And at $140 per hour, 75% of the expense is in labour .We're also checking and changing belts as needed – it's like you bi-annual health check when you turn 50. You just need to do what's required. Again remember this – If you can't afford to service your vehicle, why did you buy it in the first place. There's other things too – filters, (air, Fuel, Cabin Air) which all need to be checked and replaced as necessary. So you'll understand why these major services cost as much as they do.
Service booked? Some things to keep in mind
A couple of points that you need to note.
Ask for a fixed price
Don't be sucked into up-sells – fuel conditioners, power steering flushes, Engine flushes
Nitrogen for your tyres? Forget it – doesn't help. Don't buy it.
You don't need them and the dealer will try to charge you around $125 per service.
If you're asked to let them do a wheel alignment and rotate and balance, ask for a price. If it's any more than about $75 say no and take your car to an independent. It's a good idea to have this done yearly but that's about all unless you've hit a kerb, big pothole or similar.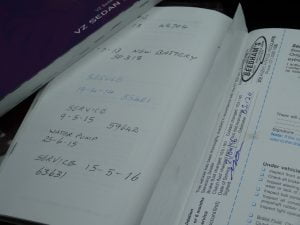 Logbook stamped and keep your invoices.
Irrespective of whether you're dealing with a franchise dealer or independent make absolutely sure that your log books are stamped. It's also wise to keep a copy of your invoices with your log books.
When you come to trade in your vehicle and you have a good service history and copies of the invoices, you WILL get more for your car.
Summary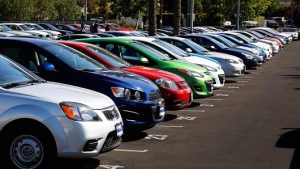 Good relationships between the car owner and the car service centre are vital.
If you trust your service person, they can be a great asset for you. A good service person will arrange a service when it suits you not necessarily their workshop. If you've got school-aged children they'll work the service in between school drop offs and pick up and there's nothing better than not being inconvenienced like this.
If it's a dealer, they'll have loan cars that you can use – some of the major independent has these too. Don't be afraid to ask.
If you look after your car, and place your trust in a good workshop, you can be confident that your experience will be the best. Ask your friends with similar cars – they'll give you the thumbs up or down as to who to use
Every article I write is targeted at providing as much information for car owners and prospective car buyers.
Above anything else, Car Business is a company that provides automotive advice for car owners who don't have access to experts. Am I an expert? I've been in the car business for over 38 years, and while there are areas where I'll reach out to friends and acquaintances for advice, I've got a pretty good grasp of most aspects of the business. I've been called a lot of things in my time – Car Doctor, Car Professor or The Car Guy, but whenever someone wants some sensible advice, they call me.
I don't charge for advice, whether it's on the phone, via email or face to face. I'm happy to provide my expertise whenever I can. So if you want to chat to The Car Guru, get in touch.
I have access to good quality cars – you can see them on Cars Guide. Just click here [Cars Guide] to view our current stock of vehicles.
Other parts of my business that you may find the need to use from time to time are:
www.genuinespares.com.au. This is an online spare parts store for Chrysler, Jeep, Dodge, Alfa Romeo, Fiat, Volkswagen and Isuzu Ute. I've got thousands of mechanical and panel parts plus Mopar (Jeep, Chrysler, Dodge, Fiat, Alfa) T-Shirts, tyres, and alloy wheels as well. If you're looking for a hard to get replacement part for any of these brands, or you just want to get a better price than retail on any car brand, let me know. And you won't pay inflated replacement parts prices either. I've priced my stock at a discounted value to compete with the USA and Europe spare parts prices but with local delivery charges
We're local agents for Williams Paint and Interior Protection as well as AutoGard and CleanGard car products and SunX window tinting. The Same story applies. This is an area that car dealers want to make an amazing amount of profit – up to 100% in some cases. Don't get ripped off by the franchise car dealers – check us out for a local competitive price on car protection products, window tinting, and engine products.
I'm pleased to advise that in 2015 I was awarded the franchise for 1800Approved Finance. As a local finance company, we're able to provide a better level of service than the local car dealers as well as pretty competitive rates. SO before you sign on the dotted line, let us compare rates on finance and insurance for you – no obligation. If you're looking for finance for a new or used car, or any other worthwhile purpose, our company can assist – even if you've had some troubling financial issues.
BLOG – I write a new Blog for my website a couple of times a week. If you'd like to read some of the stories I've written just click here.
If you ever need that advice, reach out. My contact information is:
Phone:                   0418 748 498
Email:                    [email protected]
Visit:                      226 Anzac Avenue Kippa-Ring Queensland (by appointment only)
Mail:                      PO Box 195 Clontarf Q 4019
Warm regards and remember to drive carefully
Bob Aldons
#carbusiness #thecarguy #bobaldons #newcars #racq #nrma #racv  #bestcarprice #discountnewcars #carbroker #carbuyersadvocate