Hi. Bob Aldons from Car Business again, with advice on cars and everything automotive, and we're looking at the 2017 Honda Civic Si.
Car Business is a multi-dimensional automotive company that aims to help you to buy your new car for a better price than you can do on your own. Based on the Redcliffe Peninsula about 15 minutes from Brisbane Airport and 30 minutes from the Brisbane CBD, Car Business is located in an area that allows us to pick and choose from Brisbane's finest new cars for sale. The 'go to' Brisbane car buying agents, Car Business, is so much better than a car broker – first and foremost, Car Business is an experienced Car Buyer's Advocacy service. Our experienced staff will stand alongside you, and act on your behalf to help you buy your new car at a better price than you can directly through new car dealers.
Does it look like a Porsche Panamera? The old one? No matter, because this is one fine looking automobile. The eagerly anticipated Honda Civic hatch is due for release down under in early 2017, almost as it's released in the USA. Whilst thi s will be built in the UK for the USA, probably in Japan for Australia.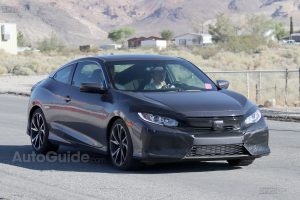 After concepts and leaks have been teasing us for months, Honda has finally revealed the 2017 Civic Hatchback.
Those who opt for the hatchback model rather than the sedan or coupe will only have one choice in engine, a 1.5-liter turbocharged four-cylinder unit that makes 174 horsepower and 162 pound-feet of torque in LX, EX and EX-L trims. Sport and Sport Touring versions of the car are granted extra power, up to 180 hp and 162 lb-ft of torque. That power boost comes courtesy of a high-flow center-mounted exhaust.
A CVT will be hooked up to the engine as standard, though a six-speed manual will be available on LX, Sport and EX trims. Honda says the car is expected to get 31 mpg in the city and 40 on the highway for a combined 34 mpg with the CVT, putting it 1 mpg behind the Civic Coupe on the highway. Even more, performance will be on tap when the Civic Type R, which will be based on the hatchback, arrives in the U.S. in 2017.
Inside, the Civic Hatchback will be familiar to anyone who has been in a modern Civic, save for the back end. Honda says the car offers 36-inches of rear seat legroom with a total of 122.9 cubic feet of interior space. The brand claims to have the "largest cargo carrying capacity in the competitive set," but Honda didn't share any details on this. Honda's long list of active safety features is available on the car, including collision mitigation braking, forward collision warning, lane keeping assist, adaptive cruise control and more. Both Apple Car Play and Android Auto are also available.
The Civic Hatchback will be built at Honda's plant in Swindon, U.K. Expect pricing released closer to the car's release in the fall.
Every article I write is targeted at providing as much information for car owners and prospective car buyers.
Above anything else, Car Business is a company that provides automotive advice for car owners who don't have access to experts. Am I an expert? I've been in the car business for over 38 years, and while there are areas where I'll reach out to friends and acquaintances for advice, I've got a pretty good grasp of most aspects of the business. I've been called a lot of things in my time – Car Doctor, Car Professor or The Car Guy, but whenever someone wants some sensible advice, they call me.
I don't charge for advice, whether it's on the phone, via email or face to face. I'm happy to provide my expertise whenever I can. So if you want to chat to The Car Guru, get in touch.
I have access to good quality cars – you can see them on Cars Guide. Just click here [Cars Guide] to view our current stock of vehicles.
Other parts of my business that you may find the need to use from time to time are:
www.genuinespares.com.au. This is an online spare parts store for Chrysler, Jeep, Dodge, Alfa Romeo, Fiat, Volkswagen and Isuzu Ute. I've got thousands of mechanical and panel parts plus Mopar (Jeep, Chrysler, Dodge, Fiat, Alfa) T-Shirts, tyres, and alloy wheels as well. If you're looking for a hard to get replacement part for any of these brands, or you just want to get a better price than retail on any car brand, let me know. And you won't pay inflated replacement parts prices either. I've priced my stock at a discounted value to compete with the USA and Europe spare parts prices but with local delivery charges
We're local agents for Williams Paint and Interior Protection as well as AutoGard and CleanGard car products and SunX window tinting. The Same story applies. This is an area that car dealers want to make an amazing amount of profit – up to 100% in some cases. Don't get ripped off by the franchise car dealers – check us out for a local competitive price on car protection products, window tinting, and engine products.
I'm pleased to advise that in 2015 I was awarded the franchise for 1800Approved Finance. As a local finance company, we're able to provide a better level of service than the local car dealers as well as pretty competitive rates. SO before you sign on the dotted line, let us compare rates on finance and insurance for you – no obligation. If you're looking for finance for a new or used car, or any other worthwhile purpose, our company can assist – even if you've had some troubling financial issues.
BLOG – I write a new Blog for my website a couple of times a week. If you'd like to read some of the stories I've written just click here.
If you ever need that advice, reach out. My contact information is:
Phone: 0418 748 498
Email: [email protected]
Visit: 226 Anzac Avenue Kippa-Ring Queensland (by appointment only)
Mail: PO Box 195 Clontarf Q 4019
Warm regards and remember to drive carefully
Bob Aldons
#carbusiness #thecarguy #bobaldons #supercars #racq #wheels #topgear #bestcarprice #discountnewcars #carbroker #carbuyersadvocate