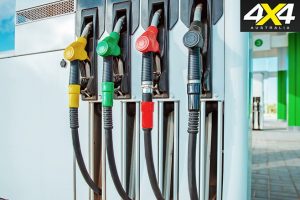 Hi. Bob Aldons from Car Business again, with advice on cars and everything automotive and today about diesel fuel.
Our colleagues at 4×4 Australia have jumped onto the diesel fuel bandwagon, or at least they're putting their opinion in writing. I'm a diesel fuel advocate – my Volkswagen Amarok runs a twin charged diesel engine which produces sufficient power for my use, has a great towing capacity of 3000kg, and is arguably the smoothest 4WD on the market. And did I say it's tough? Tough as bro. So read on, as people who really should know about diesel trumpet their opinion.
Car Business is a multi-dimensional automotive company that aims to help you to buy your new car for a better price than you can do on your own. Based on the Redcliffe Peninsula about 15 minutes from Brisbane Airport and 30 minutes from the Brisbane CBD, Car Business is located in an area that allows us to pick and choose from Brisbane's finest new cars for sale.
The 'go to' Brisbane car buying agents, Car Business, is so much better than a car broker – first and foremost, Car Business is an experienced Car Buyer's Advocacy service. Our experienced staff will stand alongside you, and act on your behalf to help you buy your new car at a better price than you can directly through new car dealers.
DIESEL engines have come along in leaps and bounds in recent years thanks to a technology revolution. That revolution is based on electronic control of extreme-pressure fuel injection systems and the ever-more-sophisticated turbocharger, which is now universally employed on diesels, sometimes in multiples on any one engine. You probably think that's why a modern diesel-powered 4×4 will typically use 20 or 30% less fuel than a petrol-powered equivalent, but the fuel-efficiency advantage of a diesel runs much deeper than that.
Most importantly, diesel fuel contains more energy than petrol. It's a simple as that. The extra energy in every litre of diesel will take you further than the lesser amount of energy in a litre of petrol. The difference isn't great but it's significant, and runs between six and 16 per cent, the exact difference being dependent on the specific grade and blend of the diesel and petrol in question. Given the engine in your 4×4 merely converts the potential energy in the fuel into mechanical energy, the more energy you put in the more energy you get out. The trick is not to waste too much along the way through heat, noise, mechanical losses and the like.
The other inherent advantage of diesel engines over petrol engines is the mechanical efficiency of their higher compression ratios. Modern diesels run compression ratios that are typically 50 per cent higher than current petrol engines, and it wasn't long ago that diesels had compression ratios twice as high as typical petrol donks. The idea here is that by squeezing more air/fuel mixture into a small space you create a more forceful explosion, which acts on the piston to create more torque at the crankshaft. Higher compression ratios generate greater pumping losses than lower ratios, but the extra energy used in compressing the air/fuel mixture to a greater extent creates a bigger bang in the combustion chamber.
Why don't petrol engines run high compressions ratios like diesels? The answer is again very simple and down to an inherent virtue of diesel fuel. Diesel is a far more stable fuel than petrol and will stand much higher temperatures before it will ignite. High compression ratios create a lot of heat and that's what ignites the fuel in a diesel engine. If you try to compress a petrol/air mixture to the compression ratios seen in a diesel the result is an uncontrolled explosion in the combustion chamber called pre-ignition. Also called 'knocking', this uncontrolled explosion can lead to catastrophic engine failure. Given the advantage high compression ratios bring, modern petrol engines push the boundaries of high compression via combustion-chamber design, knock sensors and high-octane petrol (among other things), but could never run the sort of ratios you see in a diesel. Diesel compression ratios have come down in recent years in order to improve engine refinement, given that lower compression means less noise, harshness and vibration.
There's also an environmental benefit, as lower compression ratios lead to reduced output of the various oxides of nitrogen (collectively known as NOx), a particularly nasty group of pollutants and arguably the biggest stumbling block for diesel engines in the future. Greenies are big on this! So next time you marvel at the technology in a modern diesel engine don't forget about the inherent benefits of diesel, a fuel that's more energy-rich yet at the same time less volatile than petrol.
Ethanol energy
PETROL may contain less energy than diesel but both contain a great deal more energy than ethanol, which offers a very poor energy return on a volume or weight basis. In fact, ethanol has one third less energy by volume than petrol, or put another way, petrol has 50 per cent more energy by volume than ethanol. Ethanol makes up 10 per cent of E10 fuel, and ethanol's lower energy content is the reason why your car won't go as far on a litre of E10 as it will on a litre of straight petrol. E10's lower energy level erodes its lower cost at the pump, sometimes making it more expensive in the long run.
What's not to be confused here is that ethanol has a higher octane rating than petrol, which means it's useful for engines running high compression ratios and/or forced induction such as turbocharging. In other words, it's a good racing fuel when you're not concerned about fuel economy. If you're a diesel driver who thinks none of this is a concern, you need to think again. We all pay for ethanol via a federal subsidy of around 38 cents per litre, which makes it cheaper for those people who buy it. Effectively we are all paying for ethanol, despite the fact that it's an energy-deficient fuel of dubious environmental value. Go figure.
Source: www.4x4australia.com.au
Every article I write is targeted at providing as much information for car owners and prospective car buyers.
Above anything else, Car Business is a company that provides automotive advice for car owners who don't have access to experts. Am I an expert? I've been in the car business for over 38 years, and while there are areas where I'll reach out to friends and acquaintances for advice, I've got a pretty good grasp of most aspects of the business. I've been called a lot of things in my time – Car Doctor, Car Professor or The Car Guy, but whenever someone wants some sensible advice, they call me.
I don't charge for advice, whether it's on the phone, via email or face to face. I'm happy to provide my expertise whenever I can. So if you want to chat to The Car Guy, get in touch. I have access to good quality cars – you can see them on Cars Guide. Just click here [Cars Guide] to view our current stock of vehicles.   Other parts of my business that you may find the need to use from time to time are:
www.genuinespares.com.au. This is an online spare parts store for Chrysler, Jeep, Dodge, Alfa Romeo, Fiat, Volkswagen and Isuzu Ute. I've got thousands of mechanical and panel parts plus Mopar (Jeep, Chrysler, Dodge, Fiat, Alfa) T-Shirts, tyres, and alloy wheels as well. If you're looking for a hard to get replacement part for any of these brands, or you just want to get a better price than retail on any car brand, let me know. And you won't pay inflated replacement parts prices either. I've priced my stock at a discounted value to compete with the USA and Europe spare parts prices but with local delivery charges
We're local agents for Williams Paint and Interior Protection as well as AutoGard and CleanGard car products and SunX window tinting. The Same story applies. This is an area that car dealers want to make an amazing amount of profit – up to 100% in some cases. Don't get ripped off by the franchise car dealers – check us out for a local competitive price on car protection products, window tinting, and engine products.
I'm pleased to advise that in 2015 I was awarded the franchise for 1800Approved Finance. As a local finance company, we're able to provide a better level of service than the local car dealers as well as pretty competitive rates. SO before you sign on the dotted line, let us compare rates on finance and insurance for you – no obligation. If you're looking for finance for a new or used car, or any other worthwhile purpose, our company can assist – even if you've had some troubling financial issues.
BLOG – I write a new Blog for my website a couple of times a week. If you'd like to read some of the stories I've written just click here.
If you ever need that advice, reach out. My contact information is:
Phone:                   0418 748 498
Email:                    [email protected]
Visit:                      226 Anzac Avenue Kippa-Ring Queensland (by appointment only)
Mail:                      PO Box 195 Clontarf Q 4019
Warm regards and remember to drive carefully
Bob Aldons
#carbusiness #thecarguy #bobaldons #racq #discountnewcars #bettercardeals #Supercars #wheels #caradvice #Jeremyclarkson #greenvehicleguide #askanexpert