Hi there, Bob from Car Business with another round of 'car of the year' award announcements. And this time we're looking at the SUV segment with the crowning of the Cars Guide Car of the Year. You'll recall my review on the VW Tiguan recently and I'm pleased to say that Volkswagen has taken out the award for best SUV.
The Tiguan was recently awarded the Drive Car of the Year for the SUV category too, so 2 gongs will make the executives at Volkswagen crack a bottle to celebrate.
So here's the press release from VW – enjoy the read, but importantly if you're looking for car advice, a sharp price or even some more comment on VW Tiguan, reach out to Brisbane Car Broker, Car Business. You'll find that we're very transparent with everything that we do – no hidden commissions from car dealers, just honest upfront pricing that you can depend on.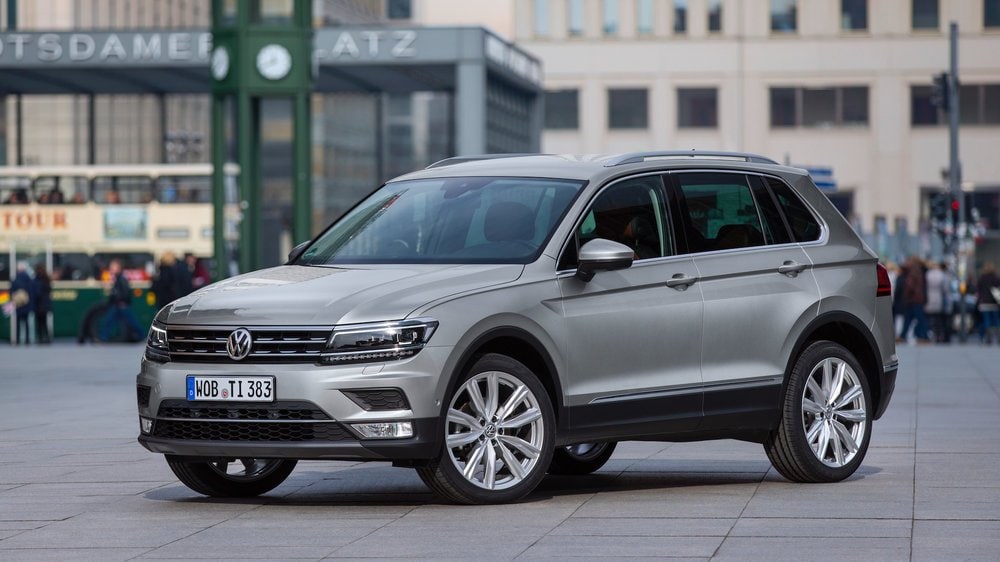 Volkswagen's Tiguan SUV has crowned an all-time record sales month with victory today in Carsguide's Car of the Year.
And the hero of the new Tiguan range is still to come …
Announced this morning, Carsguide's Car of the Year came as 1178 Tiguan's were sold in November, the best monthly result for the SUV in either of its two generations. The previous best figure was in March 2011 for 1107 of the much smaller, cheaper first model.
A seven-strong panel from News Corporation's Carsguide team unanimously voted the Tiguan 110 TSI its Car of the Year from a final field of 10 new vehicles. This included three other SUVs – Jaguar F-Pace, Kia Sportage and Mazda CX-9.
It is the fourth time Volkswagen has won the national Carsguide award, Tiguan being its first SUV so honoured.
This is also the second major award won by the Tiguan 110 TSI in seven days.
Last Friday the same Trendline variant overcame a tough field to win Drive's Car of the Year. Drive also voted this Tiguan 110 TSI the best SUV of its size.
"Profound thanks now also to the Carsguide crew," Volkswagen Group Australian Managing Director Michael Bartsch said.
"They have between them literally centuries of experience. In determining the best new car of 2016 we can be assured that nothing escaped their collective eye. This award is, indeed, an honour."
On sale since late September, Tiguan's halcyon month was achieved despite the absence of its most sought after variant – the 162 TSI.
In showrooms next month, this unique SUV shares the engine of the best-selling Golf GTI, matching it to a seven-speed DSG and 4Motion all-wheel-drive that combine to equal the GTI's 0-100km/h time of 6.5 seconds.
Demand is fervent. Of the 5439 Tiguan configurations completed online last week, 1434 were the 162 TSI.
As of yesterday almost half of the 1055 examples on order have been pre-sold. Although the variant starts from $48,490, 70 percent have been ordered with the $4000 R-Line kit to meet demand.
"Aside from its performance credentials, the 162 TSI is unique," Mr. Bartsch said.
"It is a genuinely premium SUV priced well below the luxury car tax threshold. Rival brands can't put a glove on it. Prestige brands have reason to dread it."
Yesterday, ANCAP amended its safety rating for the Tiguan to extend the maximum 5-star safety rating to all Tiguan variants – front- and all-wheel-drive.
What's Car Business all about?
Car Business is a multi-dimensional automotive company that aims to help you to buy your new car for a better price than you can do on your own. Based on the Redcliffe Peninsula about 15 minutes from Brisbane Airport and 30 minutes from the Brisbane CBD, Car Business is located in an area that allows us to pick and choose from Brisbane's finest new cars for sale.
The 'go to' Brisbane car buying agents, Car Business, is so much better than a car broker – first and foremost, Car Business is an experienced Car Buyer's Advocacy service. Our experienced staff will stand alongside you and act on your behalf to help you buy your new car at a better price than you can directly through new car dealers.
My goal with Car Business is to provide timely and informative articles on everything to do with cars – used car purchase, new car sales, car service, car finance, car insurance, aftermarket car protection products – everything .
Above anything else, Car Business is a company that provides current automotive advice for car owners who don't have access to knowledgeable car industry friends. To those of you without someone to talk to, I'm your expert – the car guy.
I've been in the car industry since 1978 – covering all aspects that consumers need advice on. I've been called a lot of things in my time – The Car Professor, The Car Doctor, and recently the Car Guy, but the bottom line is that I know a lot about this industry. Whenever someone needs some advice – they call me.
In general terms my car advice is free – it's just something I like to do and my goal is to give back to the community that has treated me so well.
Good quality, Guaranteed Used Cars
I have access to good quality cars – you can see my current stock by clicking through to Cars Guide. I'm also able to search out that particular car that you're finding difficult to find. I've got a great dealer community that I've dealt with for many years and these cars don't even hit the websites. I specialize in South East Queensland but in some cases, can look after interstate customers
Other areas that I specialize in are fairly widespread.
Genuine Spare Parts, Merchandise and Other Cool Stuff
www.genuinespares.com.au is an online spare parts business specializing in Chrysler, Jeep, Dodge, Fiat, Alfa Romeo, Isuzu Ute and Volkswagen. SO if you're looking for anything from crash parts, electrical components, wheels, t-shirts or anything else, let me assist you with that search.  You can rely on genuine spares to procure parts at better than trade price and certainly better than you can buy in Australia. My prices are reduced by about 30% on what you'd expect to pay here in Australia
Car Business Protects Your Car
Car Business is a local agent for Williams Paint and Interior Protection,  AutoGard and CleanGard, SunX window tinting.
Don't get ripped off by car dealers wanting to make a huge profit – our window tinting prices start from $175 up to $450 for cars that dealers want to charge $750 for.
Car Finance and Car Insurance
My finance and insurance franchise, 1800Approved Finance, will help you get finance for your car at rates much lower than a dealer will offer. For a homeowner, we're talking from 4.99%. Your bank won't even offer you that .
It's My Opinion – Cars, Auto Industry
If you're interested in reading quality information about new car releases, forthcoming models and just about anything else to do with the car business, click over to my blog – https://carbusiness.com.au/wpcbadmn//blog/
You'll find various and wide-ranging comment about the car industry and car people. I don't hold back on my comments – like it or not, my opinions are just that – opinions.
In closing, if you want to connect with me here's how
Car Business and Bob Aldons Contact Info
Phone:          International           +61 418 748 498
Local                          0418 748 498
Email:                                                [email protected]
Visit:                                                  226 Anzac Avenue
Kippa-Ring Q 4021
Mail:                                                  PO Box 195
Clontarf Q 4019
In closing, my passion is cars, car buyers, car dealers, but just about anything to do with cars. But you need to do me 1 favour….
Please drive carefully
Warm regards
Bob Aldons
#carbusiness #thecarguy #bobaldons #carbrokers #carbuyersadvocate #discountnewcars #carbuyingservice #bestcarprice #racq #nrma #racv #caradvice #mistakesthatcarbuyersmake