Hi. Bob Aldons from Car Business again, with advice on cars and everything automotive – this time all about Jeep and it's 75 year history.
Car Business is a multi-dimensional automotive company that aims to help you to buy your new car for a better price than you can do on your own. Based on the Redcliffe Peninsula about 15 minutes from Brisbane Airport and 30 minutes from the Brisbane CBD, Car Business is located in an area that allows us to pick and choose from Brisbane's finest new cars for sale. The 'go to' Brisbane car buying agents, Car Business, is so much better than a car broker – first and foremost, Car Business is an experienced Car Buyer's Advocacy service. Our experienced staff will stand alongside you, and act on your behalf to help you buy your new car at a better price than you can directly through new car dealers.
I became a Jeep dealer in 2003 and that itself is a good story.
My business partner and I were in Salzburg with then MD of Mitsubishi Tom Phillips in late 2002 when Tom took a call from Judith Wheeler from Chrysler Australia. Judith wanted an ok to speak to the Redcliffe Mitsubishi dealer about taking on the Chrysler Jeep franchise for North Brisbane. (Mitsubishi were part of Daimler Chrysler at the time) Tom waved at us and said to Judith "Why don't you have a chat to them now?" The rest is history and Northstar Chrysler Jeep was kicked off in 2003. 12 years later, I can say that Chrysler Jeep (and later Dodge) was the most profitable franchise for my company. My first experience with that brand was all good – Jeep was an iconic brand and whilst colleagues thought I was crazy (hey Marlene?) it was a great acquisition for us.
And my favourite cars were the 300C (2005) but all along Grand Cherokee and Wrangler were constantly in my driveway at home. As the brand became more complicated technology wise (Daimler relationship?) and customers had greater expectations from that technology, Cherokee, Grand Cherokee and Wrangler were stand outs for me both in terms of volume and profitability. If I'm to be critical of anyone or anything, Jeep didn't stick to its roots as well as it should have. Grand Cherokee was the volume seller, but hard core off roaders stuck to Wrangler in all its iterations. Jeep Wrangler continues to be the choice of those that want to get down and dirty and here's hoping that Mike Manley and the crew at Jeep continue on with the Jeep tradition.
So thanks to our colleagues at autoguide.com for the article and pictures that follow
It's somewhat ironic that one of the world's strongest automotive brands got its start in 1941 building military vehicles and has only rarely offered passenger cars—or, at least what regulators consider passenger cars. Then again, going its own way, and defying conventional wisdom in the process, has been Jeep's stock-in-trade since the beginning of this now-75-year run.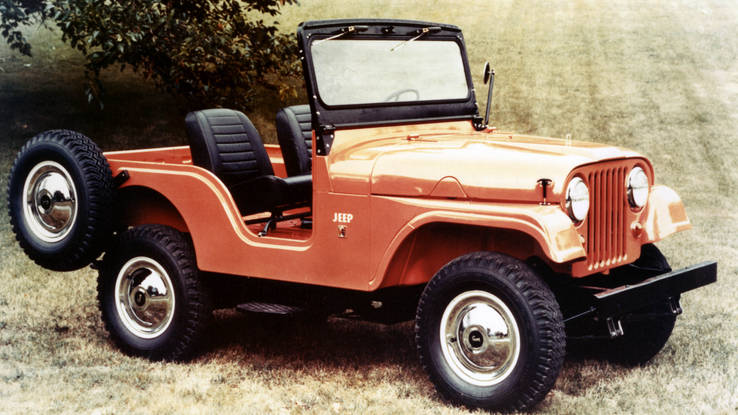 Unlikely Contender
Today, with global sales topping 1.2 million and climbing, it's easy to forget how big a gamble it was back in 1944 for Toledo-based Willys-Overland to bet its postwar future on the Jeep brand. The military Jeep MB (Willys built it alongside the nearly identical Ford GPW but didn't design it) was internationally famous, but there was little precedent for civilian four-wheel-drive cars or light trucks. No other U.S. automaker even offered factory 4WD pickups until 1953.
Nonetheless, Willys-Overland president Charlie Sorensen decided there wasn't much future in the Willys Light Six, a small sedan intended to succeed the slow-selling, prewar Americar compact. For better or worse, the Jeep MB was the company's strongest card.
Freelance designer Brooks Stevens styled most of Jeep's initial postwar products, earning a Willys contract in 1942 after publicly proposing a line of Jeep-based civilian cars. His brilliantly utilitarian designs—kept simple so they could be manufactured with non-automotive stamping equipment if necessary—gave Willys-Overland an asset as important as the Jeep name: a stylistic template applicable even to vehicles having little direct relationship to the wartime MB.
Stevens' designs provided a common identity for the oddly met lineup of early Willys Jeeps, including the MB's actual civilian successor, the Universal Jeep CJ, introduced shortly before the war'
s end; a line of station wagons and delivery vehicles, mechanically similar to the defunct Americar and sharing (through 1955) the stillborn Light Six's "Planadyne" independent front suspension; long-wheelbase, solid-axle trucks; and, finally, the sporty Jeepster. Early on, only the CJ and 1-ton trucks offered four-wheel drive.
Even 2WD wagons and Jeepsters with IFS were car-like only compared to the barely civilized CJ. With blocky looks, truckish road manners and the least powerful engine of any contemporary domestic vehicle—that would be the 2.2-liter "Go-Devil" L-head four —all were far removed from the postwar Detroit zeitgeist.
Early sales were strong thanks to pent-up demand for new vehicles—although even that couldn't save the pricey Jeepster, which arrived decades too early for the modern "cute-ute" craze. Buyers preferred the CJ and wagons, which gained optional 2.4- and 2.6-liter sixes and available 4WD. Willys didn't offer a bigger six or more than 100 hp until 1954. Jeep sat out the '50s horsepower race, sticking with L- and F-head fours and sixes into the 1960s and not offering a V8 until 1965.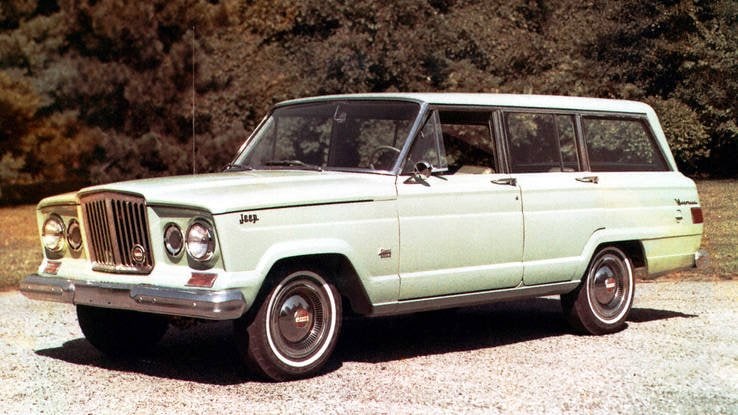 1963 Jeep Wagoneer
From Commercial to Consumer
Steering clear of mainstream trends probably helped keep Jeep alive through the 1950s. For about a decade after the complex 1953 merger between Willys-Overland and Kaiser-Frazer, new products like forward control trucks suggested private buyers were low priorities. If the brand appealed mostly to commercial customers more concerned with ruggedness and 4WD than power or styling, that was fine with Henry and Edgar Kaiser—they'd always been more comfortable with fleet and government sales, anyway.
The 1963 Jeep Wagoneer therefore broke the mold in more ways than one. Another Stevens minimalist magnum opus, the Wagoneer and related J-Series/Gladiator trucks were conceived as modern replacements for Jeep's dated postwar models. However, Kaiser Jeep (the Willys name disappeared in early 1963) quickly realized the Wagoneer had greater potential as an upscale luxury wagon, as suited to the country club as the open country—and almost as unprecedented as civilian 4WD had been 20 years earlier.
Kaiser Jeep never fully tapped that potential. Despite a shift toward consumer-oriented products like a new Jeepster Commando, profits still depended heavily on overseas business and military contracts. Domestic retail sales were erratic enough to make Jeep still seem like a risky bet when American Motors Corp. purchased it in 1970.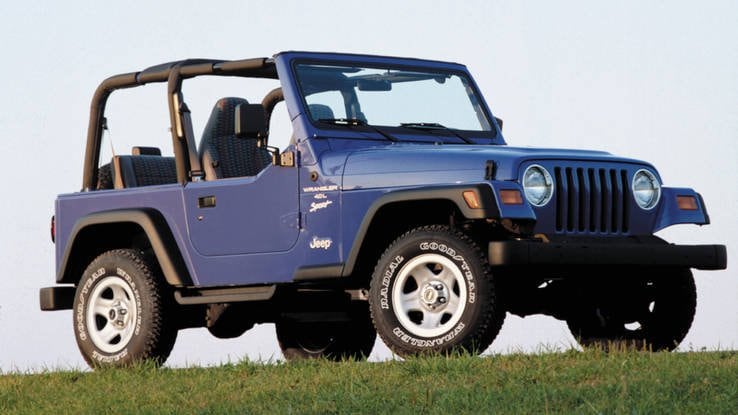 1997-2006 Jeep Wrangler TJ
New Terrain
Other than spinning off military and fleet sales to AM General, AMC made few radical changes to Jeep's 1970s lineup, instead removing obstacles that kept Jeep from capitalizing on growing interest in SUVs and light trucks. More effective marketing, class-competitive engines and optional Quadra-Trac 4WD (the only full-time system then available in the U.S.) more than tripled Jeep sales between 1971 and 1979. Business skidded in the recessionary early '80s, but there were no more doubts about Jeep's commercial viability—it soon exceeded AMC's.
The era's most important new Jeeps (largely financed by AMC's then-partner Renault) were the 1984 XJ Cherokee and 1993 ZJ Grand Cherokee, launched five years after Chrysler acquired AMC in 1987. Just as Stevens had established the look of postwar Jeeps, the XJ and ZJ set the modern brand's standard. Their sophisticated 4WD systems and  mix of car and truck features—rigid axles and unitized construction rather than platform frames and IFS—made most competing SUVs feel clumsy while maintaining Jeep's expected off-road bragging rights.
The Jeep XJ and ZJ were smash hits. By the mid-1990s, the Cherokee and Grand Cherokee had become something no previous Jeep—even the Wagoneer—had ever really been: mass-market family vehicles. That's been lucrative for Jeep's parent companies, but it also makes the brand  more vulnerable. Where Jeep could once chart its own course, it must now grapple with imitators and capable rivals on all sides.
Meanwhile, loyalists fret about whether each change—like the adoption of IFS for the '02 Liberty or the introduction of the Dodge Caliber-based Compass and Patriot, and, more recently, the debut of the Fiat-based Renegade—means the brand is finally selling out, even as its flagship Wrangler remains as eager as ever to climb rocks and churn trails. For a marque defined by go-anywhere individualism, mainstream success might be the toughest terrain of all.
Every article I write is targeted at providing as much information for car owners and prospective car buyers.
Above anything else, Car Business is a company that provides automotive advice for car owners who don't have access to experts. Am I an expert? I've been in the car business for over 38 years, and while there are areas where I'll reach out to friends and acquaintances for advice, I've got a pretty good grasp of most aspects of the business. I've been called a lot of things in my time – Car Doctor, Car Professor or The Car Guy, but whenever someone wants some sensible advice, they call me.
I don't charge for advice, whether it's on the phone, via email or face to face. I'm happy to provide my expertise whenever I can. So if you want to chat to The Car Guru, get in touch.
I have access to good quality cars – you can see them on Cars Guide. Just click here [Cars Guide] to view our current stock of vehicles.
Other parts of my business that you may find the need to use from time to time are:
www.genuinespares.com.au. This is an online spare parts store for Chrysler, Jeep, Dodge, Alfa Romeo, Fiat, Volkswagen and Isuzu Ute. I've got thousands of mechanical and panel parts plus Mopar (Jeep, Chrysler, Dodge, Fiat, Alfa) T-Shirts, tyres, and alloy wheels as well. If you're looking for a hard to get replacement part for any of these brands, or you just want to get a better price than retail on any car brand, let me know. And you won't pay inflated replacement parts prices either. I've priced my stock at a discounted value to compete with the USA and Europe spare parts prices but with local delivery charges
We're local agents for Williams Paint and Interior Protection as well as AutoGard and CleanGard car products and SunX window tinting. The Same story applies. This is an area that car dealers want to make an amazing amount of profit – up to 100% in some cases. Don't get ripped off by the franchise car dealers – check us out for a local competitive price on car protection products, window tinting, and engine products.
I'm pleased to advise that in 2015 I was awarded the franchise for 1800Approved Finance. As a local finance company, we're able to provide a better level of service than the local car dealers as well as pretty competitive rates. SO before you sign on the dotted line, let us compare rates on finance and insurance for you – no obligation. If you're looking for finance for a new or used car, or any other worthwhile purpose, our company can assist – even if you've had some troubling financial issues.
BLOG – I write a new Blog for my website a couple of times a week. If you'd like to read some of the stories I've written just click here.
If you ever need that advice, reach out. My contact information is:
Phone:                   0418 748 498
Email:                    [email protected]
Visit:                      226 Anzac Avenue Kippa-Ring Queensland (by appointment only)
Mail:                      PO Box 195 Clontarf Q 4019
Warm regards and remember to drive carefully
Bob Aldons
#carbusiness #thecarguy #bobaldons #4WD #racq #Jeep #offroad #bestcarprice #discountnewcars #carbroker #carbuyersadvocate
Read more: http://autoweek.com/article/car-life/75-years-jeep-redefining-beaten-path#ixzz4HdTKrGI5