Hi, Bob Aldons from Car Business introducing you to the 2018 Lexus LC500. I haven't been a fan of Lexus, considering it to be no more than a dressed up Toyota – you know, bling something up to resemble a luxury European car brand, but from the looks of this iteration, Lexus may have finally got it's stuff sorted. Now this is something that I'd gladly put my behind in for a week or even a while. So hint given Mr Lexus – The Car Guy will gladly evaluate your new model and write nice things about it. Isn't that what motoring journalists have to do to keep on the list?
With kudos to our international colleagues at autoweek.com, follows their review on both the LC500 (Petrol) and LC500h (Hybrid) for the North American market.
Whether we'll get the full nine yards or not and when is the only question to come from this release.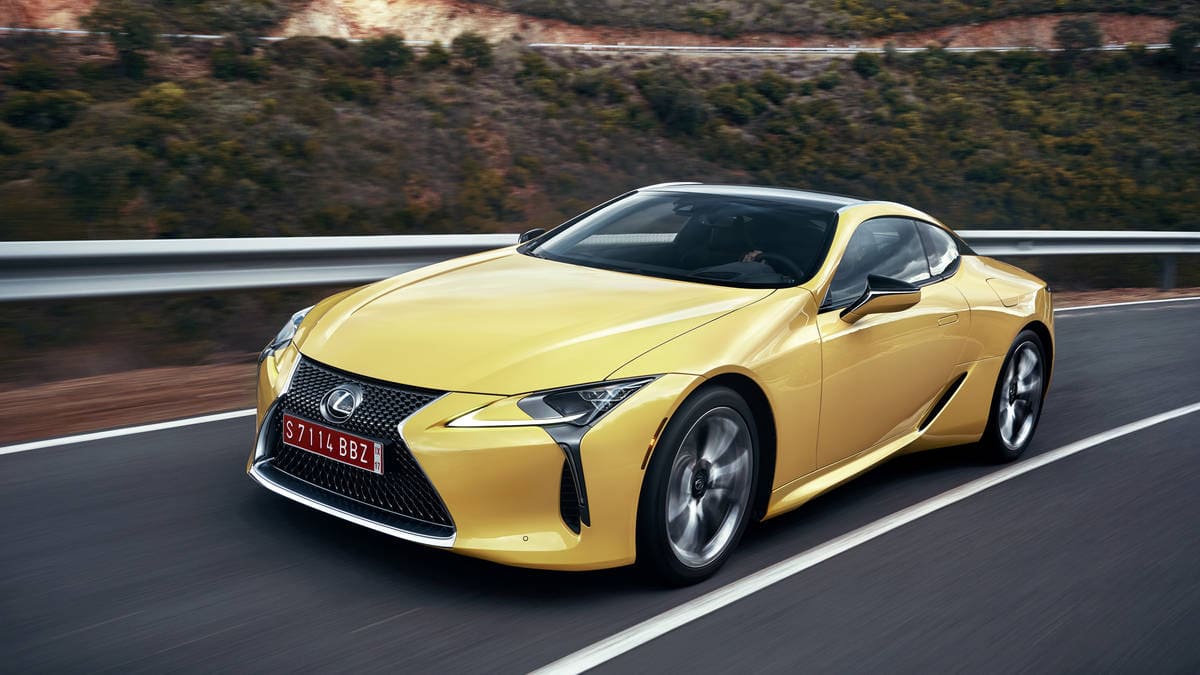 Say hello to one of the more interesting luxury coupes we've seen in a while. Witness the revived soul of Lexus.
The 2018 Lexus LC500 and LC500h form Lexus's first full-size, full-lux coupe lineup since the SC430 jelly bean disappeared in 2010. The LC500s have no retractable metal roof, no third or fourth doors and no bastardization of the classic front-engine, rear drive grand-touring concept, unless you count the hybrid option as such.
The most unconventional thing about them is a new "multi-stage shift device" that moves hybrid dynamics in the right direction. Or maybe it's the in-your-face styling from the LF-LC concept.
If you loved the LF-LC show car, introduced to acclaim at 2012 Detroit auto show, then you're going to love the LC500, because the road car is as true to its design concept as any we recall. The LC500's proportions are a bit different, yes, but you'll need a tape measure to be sure. All the themes—the long, low hood, low horizontal axis and big, full-wrap wheel arches—remain, at considerable expense to Lexus. Chief Engineer Koji Sato says the LC500 required an unprecedented level of give and take between its design and engineering teams. It also required development of downsized lighting components, an unusual double-jointed front suspension and a pedestrian detection system with a compression-loaded, pop-up hood that maintains pedestrian-impact standards.
The details remain, too, starting with a giant wire-mesh grille that tightens from bottom to top. The three-LED headlights are here, and the chrome blades framing the roof, and floating rear pillars and Lexus logos incorporated in the light clusters. An active rear spoiler is optional. The only appearance distinction between the LC500 and 500h is a hybrid badge behind the rear fender scoops.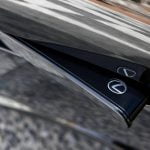 Underneath, the LC starts with Lexus's new GA-L rear-drive platform, which also provides the foundation for the next-gen LS sedan debuting this January at the Detroit auto show. Its exterior dimensions come close to those of potential competitors: The Mercedes-Benz S550 Coupe, the BMW 650i and, at the fringe, the Bentley Continental. The LC's 113-inch wheelbase is a fraction longer than the S550's, and a couple of inches shorter than the 650i's.
Its unit-body is a mix of aluminum and steel, joined where the metals meet by adhesive and self-piercing rivets, and pieces of carbon-reinforced plastic. Sato says the LC is more torsionally rigid than any Lexus before, including the LFA hypercar. Its engine is moved lower and more rearward, compared to previous full-size Lexi, with most of the mass behind the front axle. Its shock towers are fully boxed with braces. Weight rests 52 percent on the front wheels, 48 rear, and the LC's center of gravity matches the occupant's hip points (about 20 inches). Its fenders, doors and suspension arms are aluminum, and its trunk lid is carbon fiber. An optional carbon fiber roof trims 13 pounds, compared to the standard glass.
The gas-only engine is not the standard V8 from the LS460, but the high-compression, dual-injected, 7300-rpm 5.0 from Lexus's RC F and GS F hotrods. A new twin-airbox intake path lifts horsepower by four and torque by nine pound feet, thanks to a secondary intake stream that opens at high rpm. That gives the LC500 peaks of 471 hp at 7100 rpm and 398 lb-ft at 4800.
Its 10-speed automatic is a luxury-class first. Sato says Lexus considered a dual clutch automatic, but no dual-clutch delivered the smoothness his engineers sought, and the full-lock torque converter in the LC500's conventional automatic means DCT shift speed. The first seven gears are close and evenly spaced, intended for rhythmically even sound and shift points during full-throttle acceleration, and the steering-wheel paddles are magnesium. The top three gears are overdrive.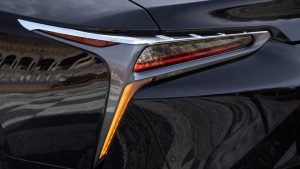 The LC500h starts with Toyota's familiar corporate 3.5-liter V6, tuned here to 295 hp and 257 lb-ft, redline raised from 6000 to 6600 rpm. Two synchronous motors in the transmission case bring total system output to 354 hp. A planetary gear set between the motors works with the first as a conventional continuously variable transmission (CVT). Lexus's first lithium battery is 20 percent smaller and 45 pounds lighter than its existing NiMH pack, with an increase in voltage and 44 kW capacity. Yet the real news in the hybrid powertrain sits at the back end of the transmission, just before the driveshaft.
That would be two more planetary gear sets, which, along with a whole lot of computer processing power, do some pretty amazing things. Lexus calls its multi-stage shift device a "game changer" in hybrids, and we are not inclined to disagree.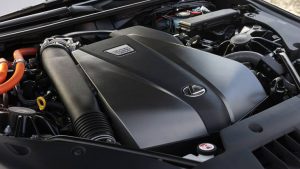 The process is complicated, but the result is pleasing: The extra gear sets after the second electric (drive) motor amplify drive torque more like a conventional transmission. LC500h has ten steps or gear phases just like the LC500–more like genuine mechanical gear steps than the electronically managed phases in most CVTs. The result comes much closer to the direct, linear, feeling of the conventional 'box, rather than the stretchy rubber-band sensation we know from CVTs. Moreover, the 500h transmission allows full manual override, right to the engine's redline, and it will allow the driver to actually overpower the rear tires and slide the back end in lower gears. Try that in your typical hybrid.
Yes, the multi-stage shift device works counter to the essential justification for a CVT, which is efficiency. Yet Lexus claims it's gotten it all back and more. At steady road speed, it can keep the engine at optimal rev speed without suffering a failure to accelerate if the driver floors it, and the 500h has a more efficient final drive ratio than previous Lexus hybrids. It should deliver the same 20 percent fuel-economy advantage in city operation.
Underneath, the LC's front suspension uses to two upper and two lower double-jointed control arms. This expensive-looking setup was developed foremost to maintain the show car's low hood, though Sato says it also allows more finite, subtle reaction to driver input or road surface. The rear suspension applies a more conventional multi-link arrangement, with coil springs and electronically managed adaptive shocks all 'round. Chassis electronics are identical to those in the LFA, and tuning is based on what Lexus learned with its exotic.
The LC's brakes measure 13 inches in diameter in front, 12 inches rear, with aluminum mono-block calipers and six and four pistons, respectively. Factory wheels will come 20 inches cast, or 20 and 21 inches forged, with a range of tires from mild to full sport—wider in back for that classic coupe look.
The 2018 LC500 and 500h will roll from Lexus's Motomachi factory—home of the LFA—by May of 2017. They'll hit U.S. dealers by June, starting at about $80,000. A range of sport accouterments, including sport-seats, color HUD, rear-steer and a Torsen limited-slip diff should drive the peak toward $120,000, and the 500h will be more expensive across the range. Lexus execs in the States expect 400 LC sales per month, with 15-20 percent hybrid.
That's small potatoes for a brand that has sold 122,000 cars through November this calendar year. The LC is the sixth coupe Lexus has offered through its 27 years, including the LFA and current RC, but it's the first developed entirely under the direction of Toyota president Akio Toyoda. Toyoda also happens to be Lexus's chief brand officer, rated a master driver, and purveyor of the mantra "no boring cars."
We like what the LC says about the revived soul of Lexus, and also what it does for hybrids.
How's it drive?
Like a fairly conventional luxury coupe, and a very good one, embedded near the fun, athletic end of the spectrum. Nothing about the LCs jumps out as bad, underdeveloped or even awkward, and we don't say that about too many cars.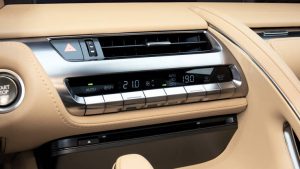 We can start with the V8. The 5.0-liter F engine isn't the most powerful in this class, but it's plenty powerful, and it revs sweetly. In the era of blown everything, it's refreshing. Full-boot shifts come quickly–bap,bap,bap–in nice even bursts. Floor the LC500 on any empty road and it will downshift a couple of gears, shove you into the seat and fly. The back wheels will skip in the upshift from second to third, but that's the sole interruption to a silky, invigorating flow of acceleration. When torquier competitors are gasping for more forced air and stuttering under the weight of their own internal inertia, the normally aspirated LC has another thousand rpm of free breathing.
Intending no offense to DCT fanatics, we say with absolute surety: The torque-converter automatic in the LC is a no-brainer. In an automotive realm where conventional manuals have been banished to the fringe, the LC500 transmission represents the best of all worlds. It's as good as a dual-clutch in manual mode and far, far more civilized through transit stages. Operated like a stick, the ten-speed protects against over-revving on downshifts, but from second gear north it will let you bounce off the 7300-rpm limiter endlessly if you are so inclined.
The LC isn't deathly still inside, like the quietest luxury sedans, but it's quiet enough to allow you to easily isolate those things generating noise—tires, air moving over the car, the virile V8, which sounds fabulous. It's definitely quiet enough for this gig, and very smooth. The only vibration flows up from the road surface, through the tires and steering shaft.
On track, the LC500 delivers more brake force, more aural gratification and more speed than any Lexus short of full F status—more of everything, except body roll. Its low center of gravity makes for excellent roll management without overt stiffness. Its steering is linear and sharp, not jerky, with fine turn-in feel.
The LC delivers a smooth, fluid track experience, and it's balanced enough to hang responsibility on the driver. Go into a corner too hot, trail braking with too much steering lock, and it will push softly and scrub away momentum. It will also drift, tail out under power, if you gas it early and too hard. It feels lighter than some competitors,and more nimble. In Sport + mode, full automatic, the transmission will learn optimal shift points well before most humans will. The LC500 may not be anyone's definition of the preferred track car—it's not intended to be—but it's beyond competent and surprisingly fun.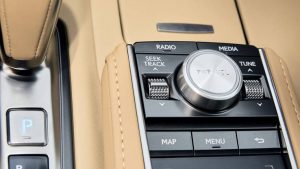 The same applies to the LC500h, believe it or not. It feels nearly as quick as the V8, up to about 80 or 90 mph. Track work exposes some of the shortcomings in the CVT/multi-stage shift device—mostly in occasional instances of furious engine noise without much acceleration, almost as if it's thinking—but it also highlights its strengths relative to most other CVTs out there. Technical elements aside, there is just more useable, controllable wheel torque than one finds with the typical CVT. Manual operation is actually worth the effort, and there's something gleefully strange in the sensation of sliding the back wheels of a hybrid.
Back on the road, that multi-stage shift device nearly banishes the dreaded sloppy-stretch sensation that defines so many CVTs. Even during stretches of frequently changing throttle application, it's the most non-CVT CVT we've encountered. Not sure if it's the game changer Lexus suggests, but we like it.
Inside, when the LC is foremost a transportation module, there's no big payback for its low, racy profile. The doors open wide and the apertures are big, so plopping in or stepping out is easy. The view out is excellent, as long as you're up high enough to see over the cowl, and the hood just drops away. The A-pillars are pulled forward, with plenty of glass around the mirrors, so they don't limit sightlines. The back-up camera works well.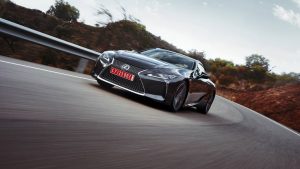 The LC's dash layout is markedly horizontal, much like the LFA. There are big swathes of suede on the door panels, much like the LF-LC concept, and the sport seats are probably worth the upgrade. They're better looking, for starters, and they don't take a significant toll when it comes to ease of ingress. The shoulder wings provide excellent support and help keep the driver in place, but they don't limit shoulder or arm movement.
Perhaps most surprising of all, the back seat in this 2+2 accommodates a 5'8'' passenger in reasonable comfort. Headroom is tight, but the seats themselves are deep, comfortable buckets, and knee room is more than sufficient.
Do I want it?
We'd guess that you do, and maybe as much as you want any of the current crop of Japanese-badged cars, right up to the mighty Nissan GT-R. You might want it more than many current BMWs, too.
Wait for an LC F, you're thinking? Hard to say how long you'll be waiting. North America wants one but Japan is still debating. They'll have to come up with some extra horsepower—some variant of the LFA V10, maybe?—as the standard LC already gets the current F engine. In our view, forced induction is not the optimal plan.
We'd be more than happy with an LC500 in our garage, and we like the direction Lexus is tracking.
Read more: http://autoweek.com/article/drive-reviews/2018-lexus-lc500-500s-first-drive-concept-road-car#ixzz4SZzXyOa0
What's Car Business all about?
Car Business is a multi-dimensional automotive company that aims to help you to buy your new car for a better price than you can do on your own. Based on the Redcliffe Peninsula about 15 minutes from Brisbane Airport and 30 minutes from the Brisbane CBD, Car Business is located in an area that allows us to pick and choose from Brisbane's finest new cars for sale.
The 'go to' Brisbane car buying agents, Car Business, is so much better than a car broker – first and foremost, Car Business is an experienced Car Buyer's Advocacy service. Our experienced staff will stand alongside you and act on your behalf to help you buy your new car at a better price than you can directly through new car dealers.
My goal with Car Business is to provide timely and informative articles on everything to do with cars – used car purchase, new car sales, car service, car finance, car insurance, aftermarket car protection products – everything .
Above anything else, Car Business is a company that provides current automotive advice for car owners who don't have access to knowledgeable car industry friends. To those of you without someone to talk to, I'm your expert – the car guy.
I've been in the car industry since 1978 – covering all aspects that consumers need advice on. I've been called a lot of things in my time – The Car Professor, The Car Doctor, and recently the Car Guy, but the bottom line is that I know a lot about this industry. Whenever someone needs some advice – they call me.
In general terms my car advice is free – it's just something I like to do and my goal is to give back to the community that has treated me so well.
Good quality, Guaranteed Used Cars
I have access to good quality cars – you can see my current stock by clicking through to Cars Guide. I'm also able to search out that particular car that you're finding difficult to find. I've got a great dealer community that I've dealt with for many years and these cars don't even hit the websites. I specialize in South East Queensland but in some cases, can look after interstate customers
Other areas that I specialize in are fairly widespread.
Genuine Spare Parts, Merchandise and Other Cool Stuff
www.genuinespares.com.au is an online spare parts business specializing in Chrysler, Jeep, Dodge, Fiat, Alfa Romeo, Isuzu Ute and Volkswagen. SO if you're looking for anything from crash parts, electrical components, wheels, t-shirts or anything else, let me assist you with that search.  You can rely on genuine spares to procure parts at better than trade price and certainly better than you can buy in Australia. My prices are reduced by about 30% on what you'd expect to pay here in Australia
Car Business Protects Your Car
Car Business is a local agent for Williams Paint and Interior Protection,  AutoGard and CleanGard, SunX window tinting.
Don't get ripped off by car dealers wanting to make a huge profit – our window tinting prices start from $175 up to $450 for cars that dealers want to charge $750 for.
Car Finance and Car Insurance
My finance and insurance franchise, 1800Approved Finance, will help you get finance for your car at rates much lower than a dealer will offer. For a homeowner, we're talking from 4.99%. Your bank won't even offer you that .
It's My Opinion – Cars, Auto Industry
If you're interested in reading quality information about new car releases, forthcoming models and just about anything else to do with the car business, click over to my blog – https://carbusiness.com.au/wpcbadmn//blog/
You'll find various and wide-ranging comment about the car industry and car people. I don't hold back on my comments – like it or not, my opinions are just that – opinions.
In closing, if you want to connect with me here's how
Car Business and Bob Aldons Contact Info
Phone:          International           +61 418 748 498
Local                          0418 748 498
Email:                                                [email protected]
Visit:                                                  226 Anzac Avenue
Kippa-Ring Q 4021
Mail:                                                  PO Box 195
Clontarf Q 4019
In closing, my passion is cars, car buyers, car dealers, but just about anything to do with cars. But you need to do me 1 favour….
Please drive carefully
Warm regards
Bob Aldons
#carbusiness #thecarguy #bobaldons #carbrokers #carbuyersadvocate #discountnewcars #carbuyingservice #bestcarprice #racq #nrma #racv #caradvice #mistakesthatcarbuyersmake