Hi, Bob Aldons from Car Business. Let me do some numbers for you before handing over to Autoweek to comment. $US30k  is $AUD39.5K Aussie dollars. Add some shipping and GST that equals $46170. And it's a Roush RS Mustang, with colour, badges, exhaust, mats, gauges, 19" wheels, hood and body scoops, spoiler, front fascia kit. So why are Australian Mustang buyers still paying mid $50k's for a bog standard V6 car?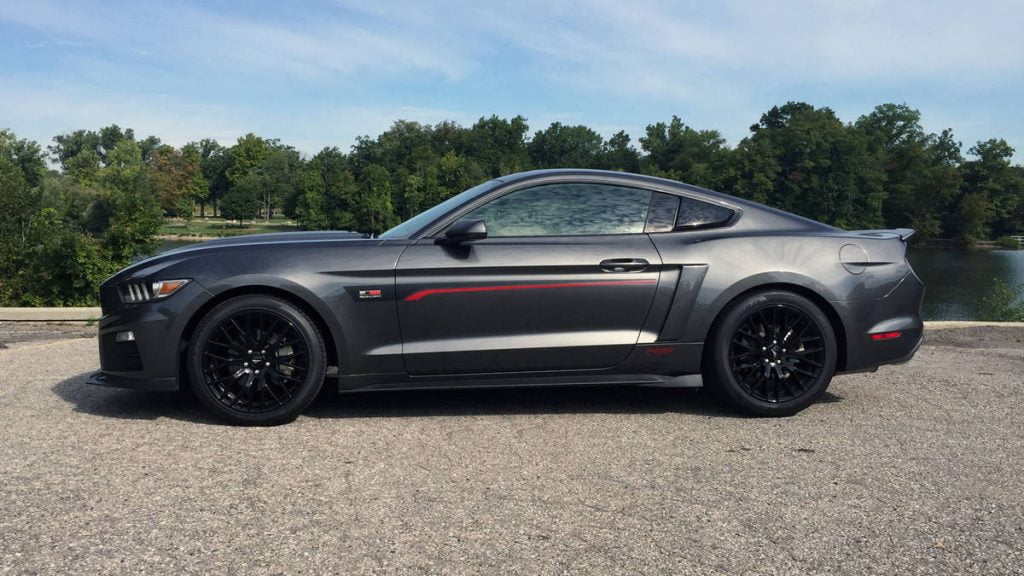 $30K FOR AN AUTHENTIC ROUSH MUSTANG, BUT, WITH NO EXTRA POWER, IS IT MISSING THE POINT?
 A philosophical question: Can a Roush RS Mustang be a Roush RS Mustang if it has the same horsepower as a stock Mustang? Is it possible for a Roush RS Mustang to cost less than $30K out the door? The answer to both is "yes," evidenced by what's happening right now in a clean-looking warehouse in Plymouth, Michigan. The only problem we have is that the best part of the company, its Roushcharger Eaton supercharger, is not included.
The 2017 Roush RS Mustang, based on the cheapo V6 Ford Mustang, comes with all Roush bits that don't make your car any faster, but dammit, it'll look the part. Now, before you scoff, or guffaw, or make any other noises, remember that the current six is as powerful as the GT from 10 years ago, so it ain't no slowpoke. Now, this particular RS has an automatic transmission, which seems to slow it down a little. On the other hand, it does have a Roush exhaust system, which brings back a little bit of the bark, if not the bite.
So, for $4,500, on top of the price of a V6 Mustang, which is currently pegged at $25,815, you get 19-inch black GT performance pack wheels, a front fascia kit, hood and body scoops, rear blackout panel with Roush lettering, a rear decklid spoiler, windshield banner and a serialized engine badge.
And that brings us to another point. Though a Roush serial number may not carry the same weight as a Shelby serial number, it does mean something. We'd wager that somewhere down the line, if you sold one of these, it would go for more than a comparable V6.
Inside, Roush also adds a medallion on the dash, a Roush Design gauge cluster, embroidered floor mats and a supplemental owner's guide.
Additionally, our tester had a custom Roush exhaust ($571.99) exiting out the back; unfortunately, it wasn't the trick adjustable version that we tested back on the RS3. Roush reps also told us they suggest adding that exhaust and its cold-air intake. That plus an ECU change, also provided, will net you an extra 13 rear-wheel hp and 15 rear-wheel lb-ft, putting the total at 313 hp and 295 lb-ft — still well ahead of GTs of the past.
So, how does it drive? Pretty much like a V6 Mustang. Pedal weight, both throttle and brake, is good. The gas takes a little weight to push down, which we like, and the brakes have a short stroke but a good amount of feel. Power was just average in the one we drove, but we didn't have that extra grunt from the intake and the tune. And the six-speed slushbox choked off the fun even further. Heavens to Betsy, get the manual.
But, with that intake, exhaust and tune — and six-speed — we bet the 313 hp would feel swift. And at that point you're only out $31,485, just a smidge more than the $30K you were promised. By the way, once you option out a new Mustang GT from Ford, you're already into the $40,000 range without working too hard.
So, a $30-or-so-thousand Mustang can be Roush-rated. Heck, most people won't even notice the lack of Roushcharger graphics anyway. Tell 'em you have the big boy, and if necessary, give them a ride. If they haven't been in a Mustang for a while, they'll be none the wiser.
 MSRP           V6 MPG        MSRP               V6 L/100
$24,645         17 / 28           $45990            13.8 / 8.4
Read more: http://autoweek.com/article/car-reviews/2017-roush-rs-mustang-drive-review-judging-its-cover#ixzz4NNSGCmFj
Car Business is a multi-dimensional automotive company that aims to help you to buy your new car for a better price than you can do on your own. Based on the Redcliffe Peninsula about 15 minutes from Brisbane Airport and 30 minutes from the Brisbane CBD, Car Business is located in an area that allows us to pick and choose from Brisbane's finest new cars for sale.
The 'go to' Brisbane car buying agents, Car Business, is so much better than a car broker – first and foremost, Car Business is an experienced Car Buyer's Advocacy service. Our experienced staff will stand alongside you, and act on your behalf to help you buy your new car at a better price than you can directly through new car dealers.
Every article I write is targeted at providing as much information for car owners and prospective car buyers.
Above anything else, Car Business is a company that provides automotive advice for car owners who don't have access to experts. Am I an expert? I've been in the car business for over 38 years, and while there are areas where I'll reach out to friends and acquaintances for advice, I've got a pretty good grasp of most aspects of the business. I've been called a lot of things in my time – Car Doctor, Car Professor or The Car Guy, but whenever someone wants some sensible advice, they call me.
I don't charge for advice, whether it's on the phone, via email or face to face. I'm happy to provide my expertise whenever I can. So if you want to chat to The Car Guru, get in touch.
I have access to good quality cars – you can see them on Cars Guide. Just click here [Cars Guide] to view our current stock of vehicles.
Other parts of my business that you may find the need to use from time to time are:
www.genuinespares.com.au. This is an online spare parts store for Chrysler, Jeep, Dodge, Alfa Romeo, Fiat, Volkswagen and Isuzu Ute. I've got thousands of mechanical and panel parts plus Mopar (Jeep, Chrysler, Dodge, Fiat, Alfa) T-Shirts, tyres, and alloy wheels as well. If you're looking for a hard to get replacement part for any of these brands, or you just want to get a better price than retail on any car brand, let me know. And you won't pay inflated replacement parts prices either. I've priced my stock at a discounted value to compete with the USA and Europe spare parts prices but with local delivery charges
We're local agents for Williams Paint and Interior Protection as well as AutoGard and CleanGard car products and SunX window tinting. The Same story applies. This is an area that car dealers want to make an amazing amount of profit – up to 100% in some cases. Don't get ripped off by the franchise car dealers – check us out for a local competitive price on car protection products, window tinting, and engine products.
I'm pleased to advise that in 2015 I was awarded the franchise for 1800Approved Finance. As a local finance company, we're able to provide a better level of service than the local car dealers as well as pretty competitive rates. SO before you sign on the dotted line, let us compare rates on finance and insurance for you – no obligation. If you're looking for finance for a new or used car, or any other worthwhile purpose, our company can assist – even if you've had some troubling financial issues.
BLOG – I write a new Blog for my website a couple of times a week. If you'd like to read some of the stories I've written just click here.
If you ever need that advice, reach out. My contact information is:
Phone:                   0418 748 498
Email:                    [email protected]
Visit:                      226 Anzac Avenue Kippa-Ring Queensland (by appointment only)
Mail:                      PO Box 195 Clontarf Q 4019
Warm regards and remember to drive carefully
Bob Aldons
#carbusiness #thecarguy #bobaldons #newcars #racq #nrma #racv  #bestcarprice #discountnewcars #carbroker #carbuyersadvocate