Hi. Bob Aldons from Car Business with the breaking news about the 2017 Jeep Compass. These are the first un-camouflaged  pictures shot on the streets of Brazil pre the launch of the new model in November. Post that launch, visitors to the Los Angeles motor show will get to see the vehicle in December. It's a bit puzzling that Fiat Chrysler chose not to launch this important vehicle in Paris next month, but obviously, Mike Manley thinks that more Brazilians will buy the new model than Europeans.
New Compass has been a long time coming. When Compass first launched here in Australia in 2007, there's no doubt that the look of both the Compass and Patriot were polarizing. Patriot suited if you were male and a Jeep lover whereas Compass was supposed to be angled towards younger females. Whilst this new model seems to have the looks, the bottom line will be the price. If Fiat Chrysler can launch it here at circa $28000 drive away for a manual, they'll be in the hunt for some market share.
If they do what the company did with the current Cherokee and price it mid $30k, then comparatively, they will fail.
The Australian market has matured in the last couple of years and buyers will ignore 'new models' and just stay with the value for money propositions. What Fiat Chrysler will have to do here, is convince the market that they've overcome the quality issues that have plagued the brand in the last so many years. Perhaps at last a 5 year warranty will be announced. There's no doubt that their dealers are crying out for some stabilization – year on year drops of 40% in their annual sales figures will be devastating for dealers, and more particularly those that built edifices on the back of large volumes in 2011 to 2013.
I have my fingers crossed for both Fiat Chrysler and their dealers.
Credit for this following article to industry colleagues at www.caradvice.com.au and www.autoo.com.br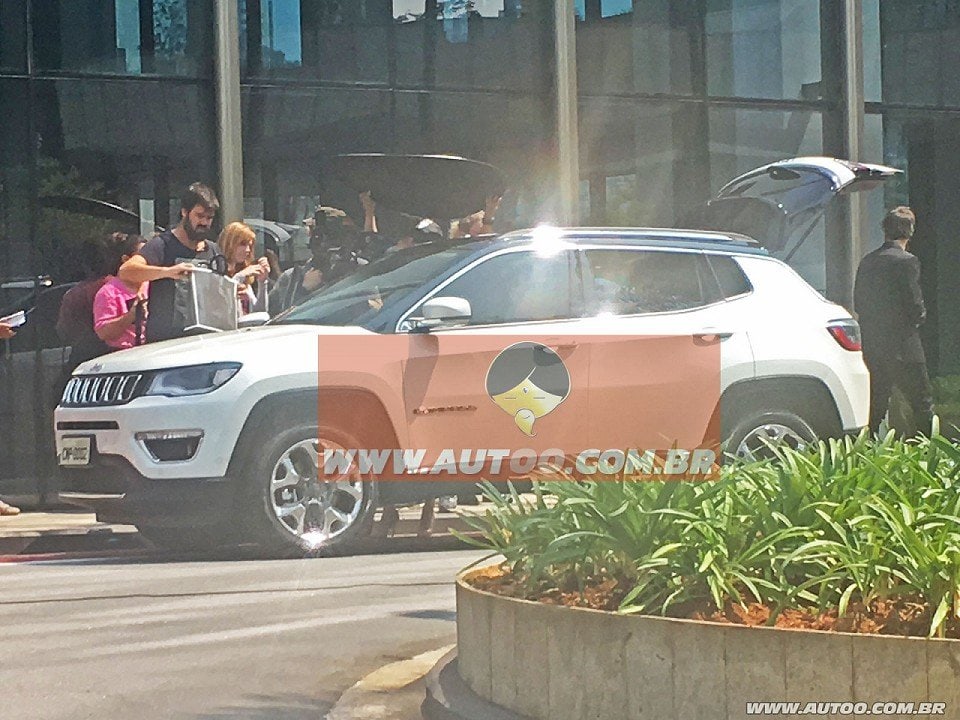 If you've ever wondered why more and more car advertisements are clearly computer-generated, there's a few good reasons. One is the god-like control over the environment and weather, but another is to avoid the prying eyes of savvy onlookers.
Authenticity remains a powerful lure, though, and it's that hunt that has brought us our first undisguised look at the all-new 2017 Jeep Compass.
Although the new Compass has been spied a number of times – and by a well-placed friend of CarAdvice on the Stelvio Pass this very week – these photos from Brazilian website Autoo reveal the small-ish SUV without a shred of camouflage as crews scurry to complete the shoot. The new 2017 Compass will replace the positively ancient first-generation Compass, and its more utilitarian-looking twin the Patriot. Both debuted in 2006, although the Compass was given new life in 2011 with a major Grand Cherokee-inspired facelift.
The Patriot picked up a minor facelift around the same time, but it will be given the boot when this new Compass debuts in the months ahead. No surprise, then, that fans and the media – even Jeep itself, internally – have been referring to this new model as the Compatriot.
It's also no surprise that the Compass has been spied in Brazil, as that's where the new model will be launched first.
"We decided to launch the new 'C' (medium) SUV actually in Brazil, which we're planning on at the moment, it will be the first plant the gets the global vehicle. No delays, it's on track, we just thought it was more appropriate," Jeep boss Mike Manley told CarAdvice in New York earlier this year.
On the styling front, the face of the new Compass skews closer to the look of the big Grand Cherokee rather than the polarising snout of the mid-sized Cherokee. Both wear the iconic slotted grille, but the Compass is sticking with a more conventional headlight design, rather than the Cherokee's four-eyes look that has won some fans and deterred others.
Through the profile, the 2017 Compass wears boxy wheel arches below a tapered black roof and an upswept beltline, while a chunky D-pillar and raked rear window maintain that look at the rear.
On this particular car, the almost Audi-like tail lamps get a dark background and a bold LED signature along the lower edge.
Earlier spy photos reveal a very familiar look in the cabin, with a tall upright dashboard with an integrated display – no floating tablets here – with a separate air-conditioning control panel beneath.
Although technical details are still to come, it's believed the new Compass is built on a version of the architecture beneath the smaller 4230mm-long Renegade and the related Fiat 500X.
In the Jeep line-up, it will sit between the very retro and ruggedly styled Renegade and the more modern-looking Cherokee, which measures 4623mm long.
The new Compass is expected to make its global debut at the 2016 Sao Paulo motor show in early November, which means we can likely expect to see it at the Los Angeles motor show later in the month.
Australian timing has not been confirmed, but we shouldn't expect to see the new Compass here earlier than the middle of 2017.
Every article I write is targeted at providing as much information for car owners and prospective car buyers.
Above anything else, Car Business is a company that provides automotive advice for car owners who don't have access to experts. Am I an expert? I've been in the car business for over 38 years, and while there are areas where I'll reach out to friends and acquaintances for advice, I've got a pretty good grasp of most aspects of the business. I've been called a lot of things in my time – Car Doctor, Car Professor or The Car Guy, but whenever someone wants some sensible advice, they call me.
I don't charge for advice, whether it's on the phone, via email or face to face. I'm happy to provide my expertise whenever I can. So if you want to chat to The Car Guru, get in touch.
I have access to good quality cars – you can see them on Cars Guide. Just click here [Cars Guide] to view our current stock of vehicles.
Other parts of my business that you may find the need to use from time to time are:
www.genuinespares.com.au. This is an online spare parts store for Chrysler, Jeep, Dodge, Alfa Romeo, Fiat, Volkswagen and Isuzu Ute. I've got thousands of mechanical and panel parts plus Mopar (Jeep, Chrysler, Dodge, Fiat, Alfa) T-Shirts, tyres, and alloy wheels as well. If you're looking for a hard to get replacement part for any of these brands, or you just want to get a better price than retail on any car brand, let me know. And you won't pay inflated replacement parts prices either. I've priced my stock at a discounted value to compete with the USA and Europe spare parts prices but with local delivery charges
We're local agents for Williams Paint and Interior Protection as well as AutoGard and CleanGard car products and SunX window tinting. The Same story applies. This is an area that car dealers want to make an amazing amount of profit – up to 100% in some cases. Don't get ripped off by the franchise car dealers – check us out for a local competitive price on car protection products, window tinting, and engine products.
I'm pleased to advise that in 2015 I was awarded the franchise for 1800Approved Finance. As a local finance company, we're able to provide a better level of service than the local car dealers as well as pretty competitive rates. SO before you sign on the dotted line, let us compare rates on finance and insurance for you – no obligation. If you're looking for finance for a new or used car, or any other worthwhile purpose, our company can assist – even if you've had some troubling financial issues.
BLOG – I write a new Blog for my website a couple of times a week. If you'd like to read some of the stories I've written just click here.
If you ever need that advice, reach out. My contact information is:
Phone:                   0418 748 498
Email:                    [email protected]
Visit:                      226 Anzac Avenue Kippa-Ring Queensland (by appointment only)
Mail:                      PO Box 195 Clontarf Q 4019
Warm regards and remember to drive carefully
Bob Aldons
#carbusiness #thecarguy #bobaldons #newcars #racq #nrma #racv  #bestcarprice #discountnewcars #carbroker #carbuyersadvocate